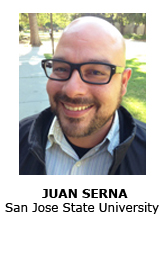 JUAN SERNA, Producer, San Jose
Juan Serna is an experienced video producer with over fifteen years of experience.  He is creative, client focused and a team player. Juan is a producer, director, editor, cinematographer and man of many talents.  He is artistic with a sense of visual style and most importantly he says -"I get the job done". For the last five years, Juan has worked at CreaTV San Jose, a community access television studio and media training center, overseeing television and video productions as well as training members in the craft of television production.  Juan has a B.A., Radio Television and Film, Minor in Theater Arts 2007 from San Jose State University.  He has been awarded the Brian Wilson Mentorship Award, The Western Access Video Excellence Award and Visual Arts: Star Trek @ the Tech, National Hometown Video Awards.
Born in Los Angeles, Sean Karlin has always been curious about the world around him and his sense of adventure led him to Israel as a young man. He studied film and television at the Sam Spiegel Film Institute in Jerusalem winning Best Documentary from the American-Israel Cultural Foundation for his documentary film KIN.  After school, he worked with Israel's largest independent film distribution company, Shani Films.
With his talent for film and his passion for adventure, Sean became involved in the environmentalist community creating digital media, documentaries, educational films and PSAs for such organizations as Amazon Watch, Sea Shepherd and Greenpeace.  From 2003 – 2005, Sean ran the entire video production department for Greenpeace USA.
In 2005 Sean settled in San Francisco where he joined Beyond Pix Studios, as a Director of Photography, and was soon promoted to Producer/Director. Beyond Pix works with many of the world's biggest technology innovators, including Amazon, Intel, HP, LinkedIn, eBay, Apple and Yahoo!.
Since 2013, Sean has directed the commercial broadcast series for Sonoma Raceway, as well as ads for HP's and Credit Karma.
Sean is a recipient of two Emmy Awards, from the National Academy of Television Arts and Sciences.