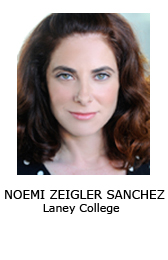 Governor:  2016-2017  Replacing Randy Forsman. 2017-19, 2020-21
Social Media Chair:  2016-2019
Noemi Zeigler Sanchez is a filmmaker, professor, comedian and host. She earned her MFA in Film Directing from the American Film Institute and teaches Film/Media courses at the Academy of Art University in San Francisco and Laney College in Oakland, where she uses media and music to inspire activism.
Zeigler Sanchez is currently producing a docu-series documenting Stuart Schuffman's campaign for mayor of San Francisco. She is also developing several film and TV projects with Wendy Kram (producer, Mad Money) including her feature screenplay What Do You Thinx of Madeline Minx? which won awards at Broad Humor and Female Eye film festivals and was a Sundance Screenwriter's Lab finalist. Kathleen Turner performed in a staged reading of the script.
Zeigler Sanchez is a screener for The San Francisco Jewish Film Festival; an education committee member for the National Academy of Television Arts and Sciences; and was an organizer for the Institute for International Film Financing. She has curated several multimedia events highlighting female and student filmmakers in conjunction with Laney College, the Academy of Art University, and College of Santa Fe — where she was a visiting professor. She was honored to receive a SMILE award from her students at Laney College for doing Something Meaningful In Life Everyday for her community.
Noemi's films and music videos have screened at numerous festivals including South By Southwest, Ann Arbor Film Fest, SF Jewish Film Fest, SF Documentary and Euro Underground. She co-produced and hosted the web show The Minx Mandate for Revision 3, in which she interviewed leading experts, thinkers and troublemakers on the future of humanity. Guests included celebrity blogger Perez Hilton and immortalist Aubrey de Gray (seen on 60 Minutes and The Colbert Report). Zeigler Sanchez performs comedy, original music and stories at venues including Fireside Storytelling in SF and Lush in Los Angeles. She was commissioned to produce a one-woman multimedia show for New Langton Arts in San Francisco and was subsequently invited to perform the show at Media Archeology: Software Cinema Festival in Houston (2006) and at Installation, Performance and Interactivity Festival in Santa Fe (2007). She was a semifinalist in SFCC's Battle of the Bay standup comedy competition in 2010.
Zeigler Sanchez's work has been featured in the Huffington Post, Film Threat, Columbia's El Espectador, SF Weekly, Jewish Journal, SF Chronicle, SF Bay Guardian, J Weekly, Austin Chronicle, Santa Fe's The New Mexican and Pasatiempo, Seattle's The Stranger, GrungeCake, Maximum Rock n' Roll, Zero Magazine, Rhizome, SF Metropolitan, Under SF (KNTV) and numerous other publications and outlets.