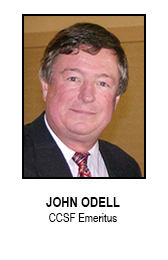 President  1989-1992
Governors' Service Medallion  1993
Silver Circle Class of  2003
National Trustee 1987-1991, 1992-1996, 1998-2000, 2010-2012, 2015-2018
Past President:  1992-1996
Vice President, San Francisco:  1988-1989
Secretary:  1985-1988, 2008-2010, 2014-2015
Awards Chair:  1988-9189, 1993, 1998-1999
Off Camera Editor:  2002-2003
Education Chair:  1998-1999
Speakers Bureau:  2007-2008
Archive & Museum Chair:  1998-1999
Governor:  1983-1985, 1986-1989, 1996-2000, 2003-2006, 2007-2008
John Odell is Faculty Emeritus of the Broadcast Electronic Media Arts Department at City College of San Francisco. Prior to his academic career, John spent more than twenty years in television news, primarily as a video editor. He also wrote, produced and reported.
John began his broadcast career in 1973 as an engineer and staff announcer at public television station KPBS in San Diego. At CBS's KPIX in San Francisco in the late 70's, he was an editor on the original "Evening" magazine staff. At ABC O&O KGO-TV, he was a member of the news team that won the 1989 Peabody Award for its coverage of the Loma Prieta earthquake
Among other awards, John is the recipient of seven Emmys and a Silver Medal in the New York International Film Festival.
A member of the NATAS San Francisco/Northern California Chapter Board of Governors since 1983, John has served as that chapter's Awards Chair, Secretary, Vice-President and President. Beginning in 1987, this is his tenth term on the National Board of Trustees.
John holds a BA from Columbia University and a Master's in Mass Communication from San Diego State University. He served as a navy photo intelligence officer in the Vietnam War.