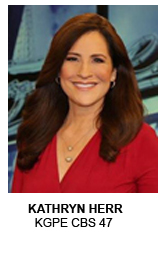 KATHRYN HERR, Anchor / Reporter, CBS47, Fresno
Kathryn Herr is the weeknight anchor at CBS47 Eyewitness News in Fresno, CA. She joined the station in 2001 as weekend anchor returning to her home state after work took her to Oregon and Idaho. Kathryn is an award-winning anchor/reporter who has covered a deadly school shooting, the Wesson mass murder in Fresno, and flown 600 miles per hour with pilots who provided security in the skies over Super Bowl 50.
Prior to moving to Fresno, Kathryn co-anchored with her husband, Jim Brown, at KMTR in Eugene, Oregon. She started her career at KIDK in Idaho Falls, Idaho. Kathryn is a proud graduate of U.C. Davis. She is an avid Dodgers fan and animal lover.