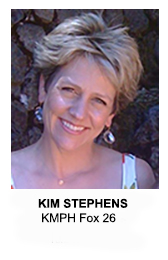 Governors' Service Medallion 2017
Vice President, Fresno:  2014-2018
Governor:  2010-2014, 2018-2020
Kim Stephens broadcasts live for 5 hours each day M-F in Fresno, Ca. She co-hosts Great Day with Kopi Sotiropulos (SC'18) and Jim De La Vega from 5 a.m. – 10 a.m. Her years of live reporting prepared her for this job that commonly calls for adlibbing breaking news all around the world. She and Kopi started this trend- setting show in 2003 and are the only local morning team to stay together this long. 
Her interest in this career began as a child, visiting her father, Bob Stephens, in the sales department at KBAK in San Francisco and KTVU in Oakland. She, however, chose news over sales earning a telecommunications degree from Chico State in 1988. Her first job was in Bakersfield at KERO where she worked her way up the ranks from morning anchor/reporter to weekend anchor/producer to weeknight anchor/reporter. (All the while working as a waitress during the day, and even working a few months at KERN radio for the midday news.) 
She then moved to the southeast and worked as main nighttime anchor at WBIR and WVLT in Knoxville, Tennessee. During that and her many community commitments, she also earned her master's degree in broadcast management at The University of Tennessee. 
In 2000 she got the opportunity to come back home to California. She worked in San Jose as a technology and business reporter, and weekend news anchor at KNTV. 
Needing a better quality of life, she accepted the opportunity to start a brand new weekly news and entertainment program, Great Day on KMPH. 
Aside from her responsibilities on Great Day, which include many personal appearances, Kim serves on the Board of Governors for the National Association of Television Arts and Sciences.  She has three Emmy® nominations, earned her first Emmy® in 2016, the Governor's Citation in 2018, The Governor's Service Medallion in 2017 and was inducted into the Silver Circle in 2014 for her 25+ years in the TV news business. She also teaches Broadcast and Online News Writing at Fresno State as well the capstone News Production class that creates a weekly student – produced newscast called Fresno State Focus.  
"Waking up at 2:00 a.m. is not a joy, I'll be honest. But I love being off by noon so I can help inspire and teach our future broadcasters. I'm always tired, but working on such a fun show in the morning is a kick. I learn something new every day. Working with a nice, creative crew makes it all worthwhile!" 
Kim says the only way she's able to stay centered amidst this crazy schedule is because of her family. She is a wife and mother of two boys – one in high school and one studying Bio Resource Ag Engineering at Cal Poly SLO.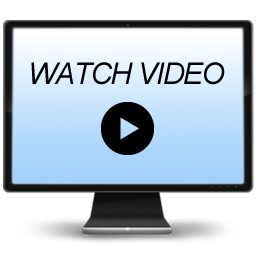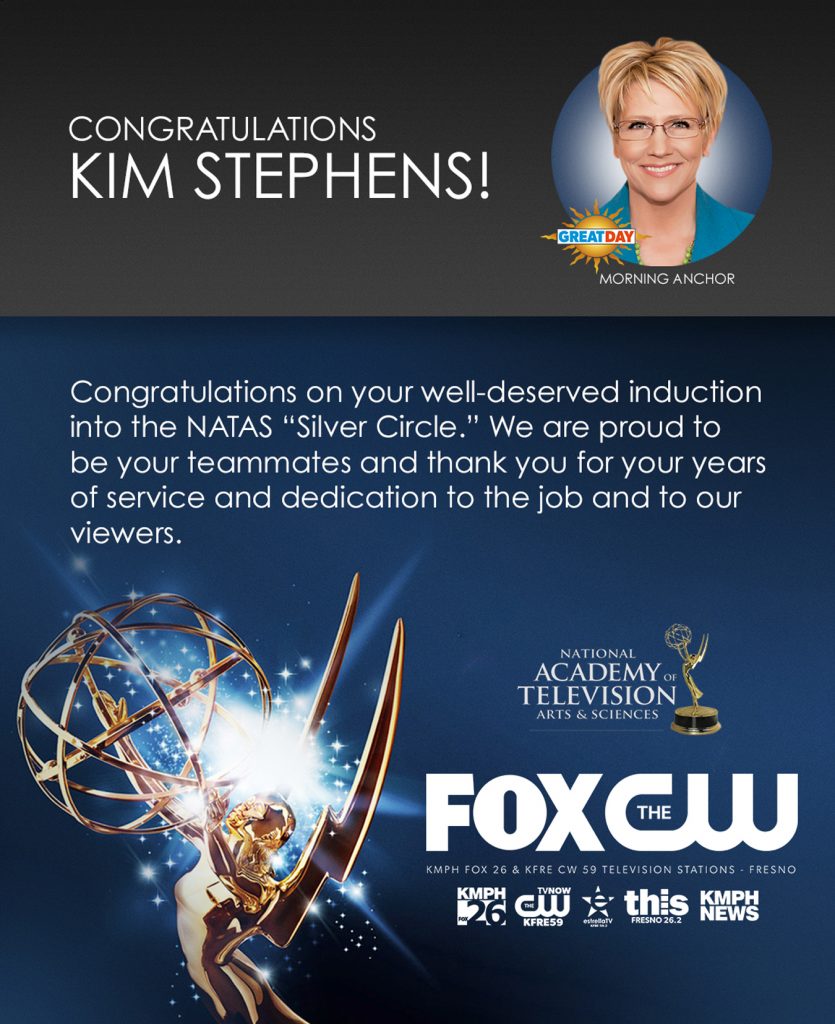 KIM STEPHENS
News Anchor
FOX 26 I KMPH NEWS
5111 E McKinley Ave. Fresno CA 93727
559.255.2600 (office)
559.374.1902 (cell)
kstephens@kmph.com
Email me at KStephens@kmph.com
social links:
https://www.kmph-kfre.com/
https://www.facebook.com/KimKMPH?ref=hl
https://twitter.com/KimKMPH
https://www.facebook.com/peacebykimref=hl
https://twitter.com/peacekim
https://instagram.com/peacebykim/