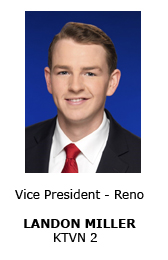 Vice President, Reno:  2016-2018
Landon was born and raised in Reno, Nevada, and is proud to call the area his home. A Wooster High School and International Baccalaureate Program graduate, Landon went on to the University of Nevada, Reno to pursue his major in journalism with a Spanish minor.
Ever since he was a young child, news and current events interested Landon, and it seemed he was destined to be a journalist.
While still attending Wooster, Landon interned at KTVN Channel 2 News for a semester. Then, he got his first on-air job as a news reporter and anchor for News Talk 780 KOH. He reported live for and produced many stories for KOH and other national networks including the IHOP shooting, the air race crash, the Caughlin and Washoe Drive Fires, and most recently the shootings at Sparks Middle School and Renown Regional Medical Center campus.
When he is not busy juggling work, Landon enjoys watching Australian television news, and spending time outdoors. His all time favorite thing to do, though, is people watching.
Landon is happy to return to Channel 2 as a reporter. He grew up watching the station, and it has always been part of his life in one way or another. Landon strives at being as professional as possible while maintaining a 'friend-like figure' for his viewers.