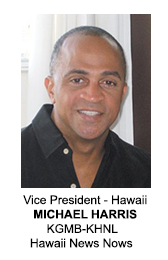 Vice President – Hawaii:  2018-2020
Michael Harris joined KGMB, the CBS affiliate in Honolulu, back in 2007 and for the last eleven years has been the voice the control room of Hawaii News Now's Hawaii's Sunrise.
He was also in the director's chair for the 2011 tsunami scare, Hurricane Julio, Iselle and Ana, Hawaii's false missile alert and countless debates and election nights.
Michael has more than 30 years' experience in broadcast news and multi-camera directing including stops at KHON2 and as the vice president of content creation for PBS Hawaii. He is also a 3-time Emmy Award winner.