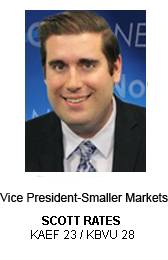 Vice President Smaller Markets:  2016-2018
Scott is extremely excited to be the news director and anchor at KAEF NorthCoast news. He is happy to call the Lost Coast home.
Born in Santa Barbara, Scott has lived in the Los Angeles area, but spent most of his life in Central Florida, and the Bay Area.
With over ten years of news experience Scott has had the pleasure of working at some great stations, and has learned for some of the best in the business. Scott joined KAEF in August of 2016. Before that he worked as the assistant news director at KRCR in Redding and worked for four years as a reporter at KRON in San Francisco. He also worked as a journalist at the CBS and ABC affiliates in Orlando Florida.
Working as a journalist in Orlando Scott covered many high profile stories such as the last Space Shuttle mission, the Casey Anthony trial, and the Trayvon Martin shooting. In San Francisco he covered the crash of Asiana flight 214 and the Napa earthquake.
In his off time, Scott enjoys playing golf, cooking, singing, and watching Raider football!