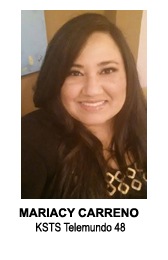 Marialcy Carreno is Executive Producer in KSTS Telemundo 48, Bay Area, CA.
She got her bachelors degree in 1995 in Mass Communication, Audiovisual Specialization from UCAB (Universidad Catolica Andres Bello, Caracas, Venezuela). Her first job was in 1993 in RCTV, Caracas, where she worked her way up from Press Files to General Producer. Also worked 7 years as reporter.
After Venezuelan government closed RCTV network, she moved to the USA in 2009 and worked as News Producer at KFTV Univision 21 in Fresno, CA until February 2014. While working at Univision, she has 4 Emmy nominations, earned her first Emmy in 2013 and her second the next year. She also got a NorCal RNTDA in 2013.
In February 2014 she accepted the opportunity to be Executive Producer at KSTS Telemundo 48 in the Bay Area, CA. In 2016 she earned 3 Emmys. Telemundo 48 station picked up 13 awards -the most in the station's 28-year history – including for "Best Daytime Newscast" and "Best Evening Newscast".
Besides her bachelors degree in Mass Communication, she got a Master degree in Teaching in Higher Education.
She is member of Sorpotimist International, a volunteer organization working to improve the lives of women and girls, in local communities and throughout the world.
She was born and raised in Margarita island, Venezuela.