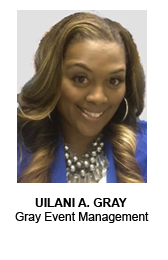 Governor:  2017 (Replacing Don Sanchez), 2017-2018
Emmy® Gala Chair: 2017-2018
Ms. Gray has been a successful event manager and creative consultant with over 11 years' experience planning from inception to service for corporate celebrations, non-profit galas, concert events to private events. She provided event coordination on the UC Berkeley's, Haas Business, Big Data Conference event, which facilitated working with counterparts in France, communicating with the venue, speakers, vendors, and volunteers. She understands the importance of the delicate balance between being creative, executing meticulous planning, and retaining the ability to improvise under pressure. She was the project manager for the California Music Industry Summit, where there were over 2,000 attendees. She handled all aspects of the conference from inception of marketing design to implementing all tasks, to dealing with all third-party vendors, employees, and volunteers. She provides exceptional strategic, creative logistical, and event production services to companies that want to maximize the value and effectiveness in a live production event.
After years of working in the business, she took her knowledge and stepped out in faith to start her own business, Gray Event Management (GEM).  Her entrepreneurial spirit has been a driving force in her life. This decision has paid off to be a successful move in the right direction. Her business has provided concert management and festival management. She has done concert events with artists, such as Robin Thicke, Peabo Bryson, and Brian McKnight, and has worked with several venues throughout the bay area, like the Marriott Hotel, Craneway Pavilion, and Yoshi's, to name a few. She also continues to work with non-profit organizations with their annual fundraising galas. Her other specialties are event and venue management, consulting services, including long-range planning, program and policy development, needs assessment, training, and general management assistance.
She holds a degree in Liberal Arts and Behavioral Science but Her passion for entertainment led her to get a second degree in Broadcast Electronic Communication Arts from San Francisco State University. Her journalistic passions are what encouraged her to get involved with NATAS SF/ NorCal division. She is excited to be a part of this world class organization and looks forward to being a part of furthering their mission.