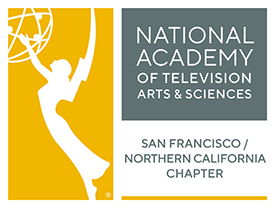 The San Francisco/Northern California Chapter of The National Academy of Television Arts & Sciences was chartered in 1961.  It is dedicated to the advancement of the arts and sciences of television and the promotion of creative leadership for artistic, educational and technical achievements within the television industry. It recognizes excellence in television with the coveted Emmy® Award.
Our members come from all areas of the industry and include the following markets:
Markets Covered
San Francisco Bay Area (DMA 8)
Sacramento-Stockton-Modesto (DMA 20)
Fresno-Visalia (DMA 54)
Honolulu, HI (DMA 66)
Reno, NV (DMA 105)
Monterey-Salinas (DMA 125)
Chico-Redding (DMA 132)
Eureka (DMA 195)
U.S. Territory of Guam.
We are the only professional association representing television professionals from all disciplines of the industry, serving as the common meeting ground for those individuals dedicated to advancing the arts and science of television. Join us and make a solid investment in yourself, your career and your industry. And, because you get great savings along with your membership, it's a real value, too! Join Here
---
SF/NorCAL Condemns Racist Comments About KPIX-TV Reporter Betty Yu And Asian Americans
The San Francisco / Northern California Chapter of the National Academy of Television Arts and Sciences joins with the Asian American Journalists Association, the Broadcast Advisory Council, and other organizations to condemn the racist and xenophobic comments made by YouTube hosts in reference to KPIX reporter Betty Yu.
The offensive language used by the hosts reveals the dangerous sentiments that have led to a doubling of Anti-Asian hate crimes in California in recent years.
"We must call out hatred and racism wherever we find it so we can proactively work for equality and respect," said Chapter President Randy Forsman.
"This disturbing hate speech – by a man recently suspended from YouTube for verbally attacking the transgender community – cannot go unchallenged. We condemn this attack, and we stand with Betty Yu and all Asian American journalists against this ignorant and ugly attack," said Chapter Board Member Priya Clemens.
The Chapter supports Betty Yu and all who work to overcome racism and hate.
NEWS DIRECTORS ROUNDTABLE  10/23/21

FRED ZEHNDER MEMORIAL SCHOLARSHIP
As you know, former KTVU FOX 2 news director Fred Zehnder lost his life on June 27, 2021.  He was struck and killed by an alleged drunk driver while taking his evening walk in Alameda.  Fred received the prestigious NATAS Governors' Award in 2000 and was a member of the NATAS Silver Circle, class of 1991.
Several former and present KTVU staff members have asked the Academy to establish a "FRED ZEHNDER MEMORIAL SCHOLARSHIP," to honor Fred and his decades of mentoring others and to help deserving students with promise pursue a news career.
Contributions to the "FRED ZEHNDER MEMORIAL SCHOLARSHIP" Fund – Make checks payable to the: TELEVISION ACADEMY FUND mail to 4317 Camden Avenue, San Mateo, CA  94403.  NOTE – CHECKS MUST BE MADE OUT TO "TV ACADEMY FUND" OR THE BANK WILL NOT CASH THEM.
Just fill in the amount of your donation.  Under description type: FRED ZEHNDER SCHOLARSHIP FUND.  Fill in your information and click "Create Payment Link" hen add your credit card.
CHECK OR CC YOU WILL RECEIVE A  SIGNED DONATION RECEIPT.
Fred did not want a formal memorial and there was none. But many of his colleagues hope to gather in the spring or summer of 2022 to remember this revered newsman.
.