By Kevin Wing
Chapter Vice President, San Francisco
Leslie Griffith, the highly-acclaimed and much-honored journalist who graced Bay Area television screens for 20 years as an anchor and reporter at Oakland's KTVU Channel 2, died Aug. 10 in Lake Chapala, Mexico, where she had been living for the last several years. She was 66.
Her family said Griffith endured a years-long battle with Lyme disease.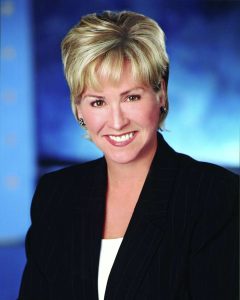 The nine-time Emmy Award-winning Griffith worked at KTVU for 20 years — from 1986 to 2006 — beginning as a reporter and as co-anchor, with George Watson, for the station's 10 p.m. weekend newscast. For several years in the 1990s, she anchored that weekend broadcast by herself, doing the same as well for a weekend early evening edition. In 1998, following the departure of Elaine Corral from KTVU, Griffith was promoted to anchoring the weeknight 10 p.m.newscast with Dennis Richmond, a position she held until she left the station in 2006.
Prior to joining KTVU in 1986, Griffith's television news resume included a stop in Colorado Springs, Colorado, followed by a stint at KSBW in Salinas. Before entering television, she cut her journalistic teeth as a reporter for the Associated Press and the Denver Post. Prior to that, she worked as a teacher.
Throughout her 20 years at KTVU, Griffith received many accolades, including nine Emmys for her work. She was on the frontlines of many of the Bay Area's major stories, including the devastating 1989 Loma Prieta earthquake and the massive firestorm that swept through the Oakland hills in 1991.
In 2006, she left KTVU and television news, but she was never far from being a storyteller. She continued to write, and prolifically, for publications that included the San Francisco Chronicle and the Huffington Post. And, concerned with the problem of tuberculosis in circus elephants for many years, Griffith championed getting elephants out of performing in circuses. In 2015, Griffith's storytelling took her filmmaking. She was the brainchild behind her film, "When Giants Fall", which she wrote and directed. For Griffith, the film spotlighted the ivory trade as a cruel business — that every 15 minutes, an elephant is killed for its ivory and that 65 percent of Africa's elephants have been killed for their ivory in a span of five years. Griffith's film went on to collect numerous accolades from film festivals across the United States. The film was also supported by People for the Ethical Treatment of Animals (PETA).
A family member confirmed to KTVU that Griffith was suffering the effects of Lyme disease since being bitten by a tick while living in Oregon in 2015. She also had a home in Lake Chapala, Mexico, where she had been living since 2016.
Griffith is survived by her two daughters, Trenton and Carly, and by her adopted son, Eric. She is also survived by two grandchildren.