CONGRATULATIONS TO OUR NATIONAL HIGH SCHOOL STUDENT PRODUCTION AWARD RECIPIENTS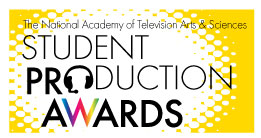 Animation/Graphics/Special Effects:  Franklin High School, Elk Grove, CA, "Caged Bird"
Holly Cheng, Animator; Brad Clark, Advisor
 Editor:  AIM/Tamalpais High School, Mill Valley, CA, "Personal Essay"
Keldon Duane-McGlashan, Editor; Mike Goldstein, Advisor
 Talent:  WCTV19 Whitney High School, Rocklin, CA, "Sarah Murphy Talent Reel"
Sarah Murphy, Anchor/Reporter; Ben Barnholdt, Advisor

The San Francisco/Northern California Chapter of
The National Academy of Television Arts & Sciences
Announces the Recipients of the 2016-17
REGIONAL STUDENT TELEVISION AWARDS FOR EXCELLENCE
The Board of Governors of the San Francisco/Northern California Chapter of The National Academy of Television Arts & Sciences is pleased to announce the recipients of the 2016-1017 Regional Student Television Awards for Excellence.
Entries were submitted by High Schools with media programs in the chapter's region, Visalia to the Oregon border including Reno, Nevada and Hawaii, for work done during the 2016-17 school year.  The "Award for Excellence," an engraved glass pillar, is presented to the school with each student recipient receiving a certificate.  The "Award for Merit" each student receives a certificate.  A total of 107 entries from 18 high schools were entered.
A record 10 Pillars for Excellence 20 Certificates for Merit were awarded.
Six High Schools will receive Pillars, two each to: Buchanan High School, Clovis; Franklin High School, Elk Grove; Moanalua High School, Honolulu, and Whitney High School, Rocklin.  Single pillers to Ruth Asawa  San Francisco School of the Arts, San Francisco and The Academy of Integrated Humanities and New Media, Tamalpais High School, Mill Valley.  Additional schools receiving Merit Awards include: Maui High School, Kahului, HI; McLane High School, Fresno; and Sheldon High School, Sacramento.
NATAS Education chair, Keith Sanders, San Jose State University, was pleased to see a 75% increase in entries and a 14% increase in participating schools.  The quality of the entries gets better each year, a testament to the high quality media programs taught in the Northern California, Hawaii and Nevada. .  Check with our website soon to see this year's outstanding work – www.emmysf.tv, click on students
Again this year, the Pillar recipients "Award of Excellence," will move forward to a national competition between all 19 chapters of NATAS.
The Complete list of recipients follows:
 Newscast
Award of Excellence:  Buchanan High School, Clovis, CA, "BNN-Buchanan News Network"
Sergio Chavez, Camryn Dietz, Taylor Wolfe, Producer/Camera/Editor; Sarah Forbis, Ryan Kish, Arianna Norvelle, Anchor/Writer; Lauren Redmond, Interviewer; Rei Bioco, Lance Lamborn,Camera/Editors; Tristan Stulce, Editor/Audio/Lighting; Bransen Pass, Graphics; Daniel Pearce, Advisor
News:  General Assignment – Serious News
Award of Merit:  Moanalua High School, Honolulu, HI, "Prider in Our Differences"
Jocelyn Bonilla, Reporter; Trinna Tran, Photographer; Madison Badua, Editor; Naomi Malacas, Scripter; Austin Zavala, Advisor
Award of Merit:  WCTV19 Whitney High School, Rocklin, CA, "More Than a Diagnosis"
Sarah Murphy, Reporter; Faith Abercrombie, Emily Brumley, Savannah Hill, Photographers; Ben Barnholdt, Advisor
News:  General Assignment – Light News
Award of Excellence:  WCTV19 Whitney High School, Rocklin, CA, "Music as Medicine"
Sarah Murphy, Reporter; Savannah Hill, Photographer; Ben Barnholdt, Advisor
Award of Merit:  Searider Productions Wai'anae High School, Wai'anae, HI, "MAN-on-the-GO"
Cheralei Tokunaga-Williams, Producer; Wainani Wetter, Writer; Jaena Campos, Photographer; Tyler Chanthakham, Editor; John Allen, Advisor
Arts and Entertainment/Cultural Affairs
Award of Excellence:  Ruth Asawa San Francisco School of the Arts, San Francisco, CA, "Storytellers"
Ethan Bresnick, Director/Writer/Cinematographer/Editor; Avidan Novogrodsky-Godt, Assistant Director; Theo Haber, Composer; Scott Berhardt, Advisor
Award of Merit:  AIM/Tamalpais High School, Mill Valley, CA, "Roll On"
Jacob Kline, Megan Lee, Nick Smiley, Cam Vernali, Filmmakers; Mike Goldstein, Advisor
Music Video
Award of Merit:  Buchanan High School, Clovis, CA, "Grace Kane 'Anywhere'"
Sergio Chavez, Actor/Cinematographer/Editor; Grace Kane, Actress/Songwriter/Singer; Rei Bioco, Ryan Kish, Cinematographers; Daniel Pearce, Advisor
Award of Merit:  Moanalua High School, Honolulu, HI, "The Recollection"
Camryn Tabiolo, Director; Chloe Popa, Composer; Mark Ikenaga, Advisor
Short Form – Fiction
Award of Merit:  Moanalua High School, Honolulu, HI, "True Measure"
Logan Mauricio, Actor; Jessica Kalen, Kaye Anne Labtingao, Camryn Tabiolo, Audio; Kainoa Ferguson, Malia Ignacio, Kacie Kimoto, Grips; Mark Ikenaga, Advisor
Award of Merit:  Moanalua High School, Honolulu, HI, "Urban Legend"
Camryn Tabiolo, Director; Kainoa Ferguson, Malia Ignacio, Jessica Kalen, Kacie Kimoto, Logan Mauricio, Actors; Mark Ikenaga, Advisor
Short Form – Non-Fiction
Award of Merit:  Maui High School, Kakului, HI, Kakului, HI, "FRC – 2017 Part 3"
Charles Bermudez, Producer/Camera/Editor; Clint Gima, Advisor
Award of Merit:  Buchanan High School, Clovis, CA, "Defying the Odds The Madeline Greenler Story"
Katherine Greenler, Videographer; Sergio Chavez, Videographer/Editor; Bransen Pass, Videographer/Graphics; Daniel Pearce, Advisor
Long Form – Fiction
No Awards
Long Form – Non-Fiction
Award of Merit:  McLane High School, Fresno, CA, "Ground Water Zero"
Jacklin Ybarra, Producer; Jose Castro, Producer/Camera Operator; Alexus Medina, Cesar Quinonez, Producer/Camera Operator/Editors; Andrew Herrera, Camera Operators; Gil Barragan, Camera Operator/Editor; Natali Castillo, Editor; Manuel Bonilla, Marc Patterson, Advisors
Sports
Award of Merit:  Searider Productions Wai'anae High School, Wai'anae, HI, "Taking It To Towne"
Chrisann Rabanes, Reporter/Writer; Brylee Maesaka-Maramba, Co-Writer
Jayden Kepo'o-Caspino, Photographer; Anuhea Hamilton, Editor; John Allen, Advisor
Sports – Live Event
Award of Merit:  WCTV19 Whitney High School, Rocklin, CA, "Antelope at Whitney"
WCTV19 Staff; Ben Barnholdt, Advisor
Sports Program
No Awards 
Public Service (PSAs)
Award of Excellence:  Buchanan High School, Clovis, CA,"You Can Make a Difference Suicide Prevention"
Sergio Chavez, Photographr/Editor  ; Daniel Pearce, Advisor
Award of Merit:  Maui High School, Kakului, HI, Kakului, HI, "Ocean Delicacy"
Renezel Lagran, Producer; Axl Daguio, Writer, Actor; Yasha Ronquillo, Photographer; Kasey David, Editor; Clint Gima, Advisor
Public Affairs/Community Service
Award of Merit:  Searider Productions Wai'anae High School, Wai'anae, HI, "Waianae Strong"
Jeffery Jones, Shennyn Smith, Producers; Kailey Gouveia, Director; Jaylin Pacheco, Photographer; Malina Marquez, Editor; John Allen, Advisor 
Commercial
No Awards
Animation/Graphics/Special Effects
Award of Excellence:  Franklin High School, Elk Grove, CA, "Caged Bird"
Holly Cheng, Animator; Brad Clark, Advisor
Award of Merit:  Franklin High School, Elk Grove, CA, "What to Do With FOG"
Jacob Sullivan, Animator; Brad Clark, Advisor
|Award of Merit:  K9 Studios Sheldon High School, Sacramento, CA, "Deep Trouble"
Jospeh Schwall, Brock Welch, Directors; Nicholas Chamber, Juanito Garcia, Daniel Garibay, Editors; Christina Angulo, Makena Bajar, Character Designers; Marlonino Banut, Gamalier Colon, Juanito Garcia, Sound Designs; Austin Jenkins, Shelby Misasi, Head 3D Artists; Shawn Sullivan, Advisor
Audio/Sound
Award of Excellence:  Moanalua High School, Honolulu, HI, "A Way Back"
Camryn Tabiolo, Audio; Mark Ikenaga, Advisor
Editor
Award of Excellence:  AIM/Tamalpais High School, Mill Valley, CA, "Personal Essay"
Keldon Duane-McGlashan, Editor; Mike Goldstein, Advisor 
Photographer
Award of Excellence:  Franklin High School, Elk Grove, CA, "Nicholas Conklin Cinematography Reel"
Nicholas Conklin, Photographer; Brad Clark, Dawn Williams, Advisors
Award of Merit:  Moanalua High School, Honolulu, HI, "A Way Back:
Camryn Tabiolo, Photographer; Mark Ikenaga, Advisor
Talent
Award of Excellence:  WCTV19 Whitney High School, Rocklin, CA, "Sarah Murphy Talent Reel"
Sarah Murphy, Anchor/Reporter; Ben Barnholdt, Advisor 
Writing
Award of Excellence:  Moanalua High School, Honolulu, HI, "The Three Steps"
Kainoa Ferguson, Logan Mauricio, Writers; Mark Ikenaga, Advisor
Award of Merit:  Moanalua High School, Honolulu, HI, "One Day"
Camryn Tabiolo, Annika Wong, Writers; Mark Ikenaga, Advisor
Award of Merit:  Moanalua High School, Honolulu, HI, "True Measure:
Logan Mauricio, Writer; Mark Ikenaga, Advisor
*     *     *     *     *
Contact:  Darryl Compton, Executive Director
darryl@emmysf.tv     650-341-7786
STUDENTS MAY ORDER INDIVIDUAL PILLARS
The Regional Student Television Award for Excellence Pillar is giving to the entering High School. Students listed on the Press Release for participating in the awarded entry may purchase personalized Pillars with their name on it.
The cost of the pillar is $85 plus $7.86 sales tax and $24.14 Shipping and Handling. Total $117.00
Link to order customized pillars