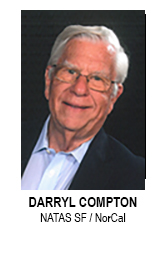 Governors' Service Medallion  1990
Vice President, San Francisco:  1990-1996
Treasurer:  1986-1988
Finance Chair:  1986-1988
Trustee:  1993-1996
Alternate Trustee:  1992-1993
Awards Chair:  1993-1996
Emmy® Event Chair:  1990-1991
Off Camera Editor:  1998-2001
Governor:  1984-1988, 1990-1995
Executive Director:  1996-present
Darryl Compton, has worked in broadcasting for over 55 years.  He is the Executive Director of the San Francisco/Northern California Chapter, and a member since 1974.  He has served the Chapter as Trustee, President, Vice President, Treasurer, Awards Chair and is a member of the Silver Circle.class of 1995.
Darryl also serves as the Executive Director for the NorCal RTNDA, (Radio-Television News Directors Association of Northern California) and the Broadcast Legends.  In addition he still has time for some freelance producing and directing.  He received an Emmy® award for the 1996 "Bay to Breakers Highlight Show" for KPIX, San Francisco.   He has also produced and directed "Silicon Summit: Will Technology Affect the News?, " (a three hour round-table edited to seventy five minutes for the Radio-Television News Directors Foundation);  and coordinated the media pool coverage for the executions at San Quentin State Prison.
Previously Darryl was the Executive Director, Peninsula Press Club (2000-13); Director of Operations, CKS Pictures, Cupertino (1994-95); Director of Special Events, Yonchenko Communications, South San Francisco (1993-94); Associate News Director for Operations, KRON-TV, San Francisco (1981-92); and Master Control Supervisor, Broadcast Communications Arts Department, San Francisco State University (1963-81);  Darryl was the Operations Manager for the KQED-TV Auction for many years, he also worked at KRON-TV and KEAR-FM in the early 60's.
Darryl, lives in San Mateo, with his wife Carolyn, they have seven children and ten grandchildren and two great grandchildren.  Newest member of the family is a bearded collie named Lulu who just turned five.  He is an Elder and Deacon in the Presbyterian Church and currently Clerk of Session at the First Presbyterian Church San Mateo.  He has served on the Boards of Directors of the Service League of San Mateo County and the Peninsula Clergy Network.  He currently serves on the boards of Media Bridges, Inc. and the Pear Theatre in Mountain View.
650-341-7786