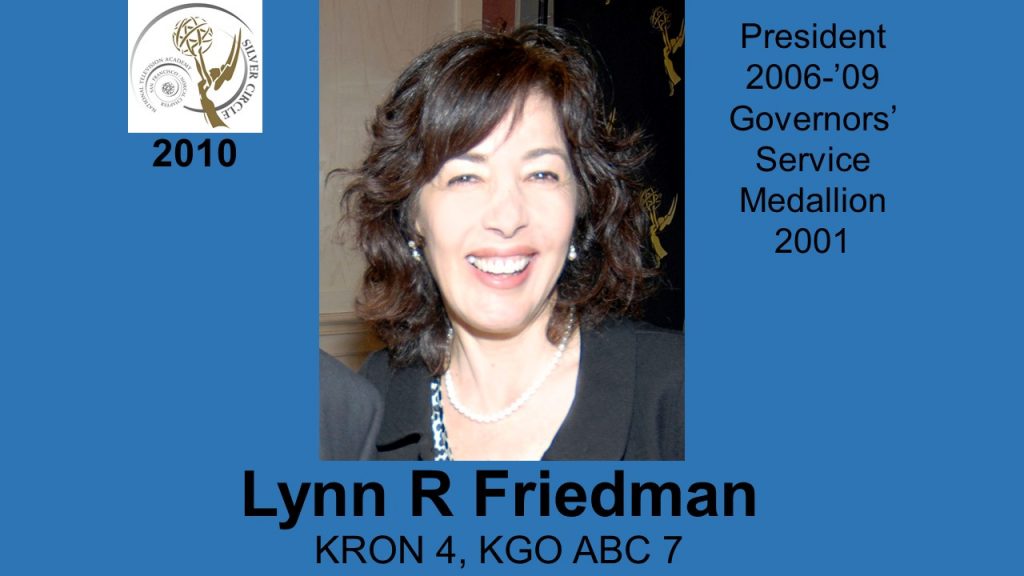 Lynn Friedman has worked at KTSF, KFTY, VideoWest, MTV,
KRON and CNN in production, promotion, public affairs, traffic, studio,
field, photographer, and, since 1993 as news editor at KGO-TV. In 1990,
she received a Fulbright Fellowship to teach TV production at Radio
Televisão Portuguesa in Lisbon. Friedman has received: 11 Emmy®
Awards; numerous AP & RTNDA awards and two national Edward R.
Morrow and Humane Society's Genesis recognitions for her editing skills.
A former NATAS chapter President, Alternate Trustee and Governor, she
was also a member of the Awards and Emmy® Event Committees.
Friedman is past chair of the Technology Committee and continues to
chair the Cinema Club, while fostering a strong alliance with the Northern
California TV/Film Community. Her continued dedication in maintaining
the high standards of the National Television Academy has been recognized
with the Governors' Service Medallion.