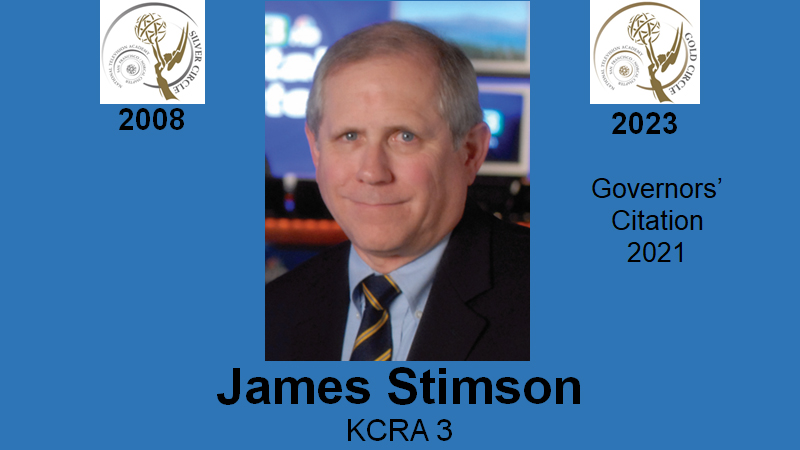 Jim Stimson's lifelong dedication to television began at UC Davis when he landed a spot at the campus radio station KDVS.  That led to freelance work for NBC, ABC and the Associated Press.  Then an internship evolved into a full-time job in the KCRA Newsroom.  All of that while he was still in college.
Jim first focused on KCRA's radio side, but soon transitioned to TV, rising from writer to producer, then senior producer, executive producer and, eventually, Assistant News Director.  Altogether Jim would spend more than 47 years with KCRA.
Across five decades, Jim helped guide coverage of one major story after another – the Loma Prieta earthquake, the 1997 New Year's flood, the Scott Peterson verdict, the Paradise wildfire, and so much more.  He oversaw investigations, special projects, and thousands of newscasts.
Jim's work also extended beyond Sacramento.  He produced gubernatorial and U.S. Senate debates that were broadcast statewide and a town hall broadcast with President Clinton that included live audiences in Sacramento, San Francisco, Los Angeles and San Diego.
Jim Stimson is the recipient of nine Emmy® Awards in six different categories, including News Excellence.  He was inducted into the NATAS Silver Circle in 2008 and honored with the NATAS Governors Citation in 2001.  Now retired, Jim remains active in the television community, through his support of scholarship and mentor programs as well as judging Emmy® Award entries.