CONGRATULATIONS TO OUR NATIONAL HIGH SCHOOL STUDENT PRODUCTION AWARD RECIPIENTS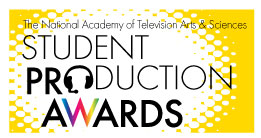 Animation/Graphics/Special Effects:  Franklin High School, Elk Grove, CA, "Caged Bird"
Holly Cheng, Animator; Brad Clark, Advisor
 Editor:  AIM/Tamalpais High School, Mill Valley, CA, "Personal Essay"
Keldon Duane-McGlashan, Editor; Mike Goldstein, Advisor
 Talent:  WCTV19 Whitney High School, Rocklin, CA, "Sarah Murphy Talent Reel"
Sarah Murphy, Anchor/Reporter; Ben Barnholdt, Advisor
---
Congratulations 2017 Collegiate Scholarship Recipients!

$2,000 Peter Marion Memorial Production Scholarship
VALENTIN ALMANZA,California State University Sacramento
$2,000 Shelly Fay Memorial Videography Scholarship
DANIEL GUARDADO, San Francisco State University
$2,000 Nancy Besst Memorial Graduate Scholarship
PALOMA MARTINEZ, Stanford University
$3,000 Jerry Jensen Memorial Graduate Oveerall Excellence
JULIA VASSEY, University of California Berkeley
$3,000 Steve Davis Memorial Under-Graduate Overall Excellence
COURTNEY WAGNER, California State University Sacramento
Scholarships will be presented at the 2017 Gold & Silver Circle Induction Luncheon, Sat. Oct. 14th at the Park Central Hotel in San Francisco.
CLICK FOR INFORMATION AND TICKETS
---
STUDENT SCHOLARSHIPS AND AWARDS
The San Francisco/Northern California Chapter supports future television industry professionals by recognizing the talent and efforts of high school students in our region with a student awards program. We also provide financial support for college students through a variety of scholarship offerings.
COLLEGIATE SCHOLARSHIPS for TELEVISION PRODUCTION, REPORTING, VIDEOGRAPHY and WRITING
The Chapter annually awards four undergraduate student scholarships in television reporting, videography, production and writing. Graduate students are eligible to apply for the graduate student scholarship for work in production, reporting, videography and writing. There are also two special awards for the outstanding graduate and undergraduate student. The Chapter awards these scholarships to encourage students who demonstrate leadership and talent in advancing the artistic, cultural, educational, and technical qualities of television. Collegiate scholarships are presented to students at the annual Gold & Silver Circle Induction Luncheon each fall. More Info
REGIONAL HIGH SCHOOL STUDENT TELEVISION AWARDS FOR EXCELLENCE
The San Francisco-Northern California Regional Student Television Awards for excellence, which promotes best practices to high school students, is intended to be an incentive for the pursuit of excellence in television journalism and focus public attention on outstanding achievements in television produced by high school students. Faculty involvement can only be advisory. More Info

---
NATAS STUDENT MEMBERSHIPS
Membership in The National Academy of Television Arts and Sciences San Francisco/Northern California Chapter range from $110 to $35 a year.  The Board of Governors voted to extend a special STUDENT MEMBERSHIP RATE of $15 so that College and High School students can get involved with the premier and most recognized non-profit organization dedicated to the advancement of excellence in television.
The $15 rate applies to all of our regions from Fresno to the Oregon border, Reno, NV and Hawaii.  You will receive the Off Camera newsletter each month.  Be invited to attend seminars and events.  The only area that students are excluded from is the professional Emmy® award competition.  You don't need to be a member to enter the High School or College Scholarships.