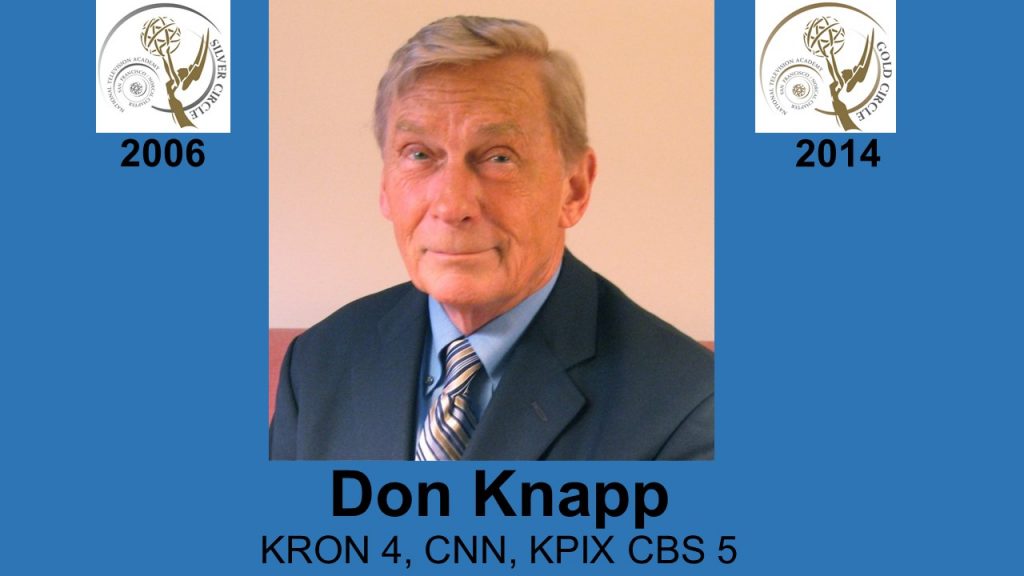 Since 2006, Don Knapp has been a general assignment reporter at KPIX CBS 5 Eyewitness News. He is the first San Francisco Bay Area television reporter to shoot, write and edit a "VJ" internet video story for the New York Times website, along with print article for the New York Times.
Knapp's first paid job in broadcasting was in 1962 as morning show host at WLKR-FM radio in Norwalk Ohio. As a small town radio station, WLKR required their employees to multi-task and work many jobs. So, in addition to being the morning host and combo board operator, Knapp also was ad copy writer, music puller, transmitter operator, and restroom cleaner. One day, when his radio shift was ending, news of a Dallas shooting came over the news wires. For the next several hours, Knapp, seated next to the teletype with a microphone, reported the news. The next day, he went into the field to report on a breaking news story at the Fitchville Ohio Golden Age nursing home. As a result of these two news events, it was clear to Knapp that he preferred a career in broadcast news, so he applied to the Ohio State University's Journalism school. While attending graduate school in 1964, he was hired at WBNS, Ohio, where he perfected his video journalism skills by working as a reporter, shooter, writer, editor and film processor. By 1969, he had moved to San Francisco.
Prior to his current job at KPIX CBS 5, Knapp worked at KRON 4 for five years as a general assignment reporter for daily news, major stories and special projects including primary coverage of the murder trials of Scott Peterson, Susan Polk and Scott Dyleski. He was one of the first KRON VJs (trained by Michael Rosenblum) to be reviewed and approved by KRON management. He produced and aired over 120 VJ stories.
Prior to KRON 4, Knapp worked for 13 years as a CNN West Coast Regional Network Correspondent based in San Francisco. His top assignments included: Kuwait oil field fires, Persian Gulf mine sweeping and Iraqi refugee crisis following Desert Storm, the Yellowstone forest fires, San Francisco earthquake, Mississippi and Missouri River floods, Rodney King riots, Hurricane Iniki on Kauai, Oklahoma City bombing, Los Angeles Northridge earthquake, O. J. Simpson trial, Northern California floods, Unabomber trial, Montana Freeman standoff, Oklahoma Monster Tornado, Columbine school shootings, Montana Bitterroot Valley Wildfires and Seattle World Trade Organization protests. Prior to CNN, he spent two decades reporting for major San Francisco Bay Area broadcast news operations including KGO ABC 7 and Radio News, KPIX 5 (again), and KTVU Channel 2.
Knapp was inducted into the Silver Circle in 2009. His work has been recognized with a National Emmy®, award for CNN Team Coverage of the Oklahoma City Bombing; Cable Ace award; the 2003 Lifetime Career Achievement from the Society of Professional Journalists; RTNDA, and Peninsula Press Club awards.