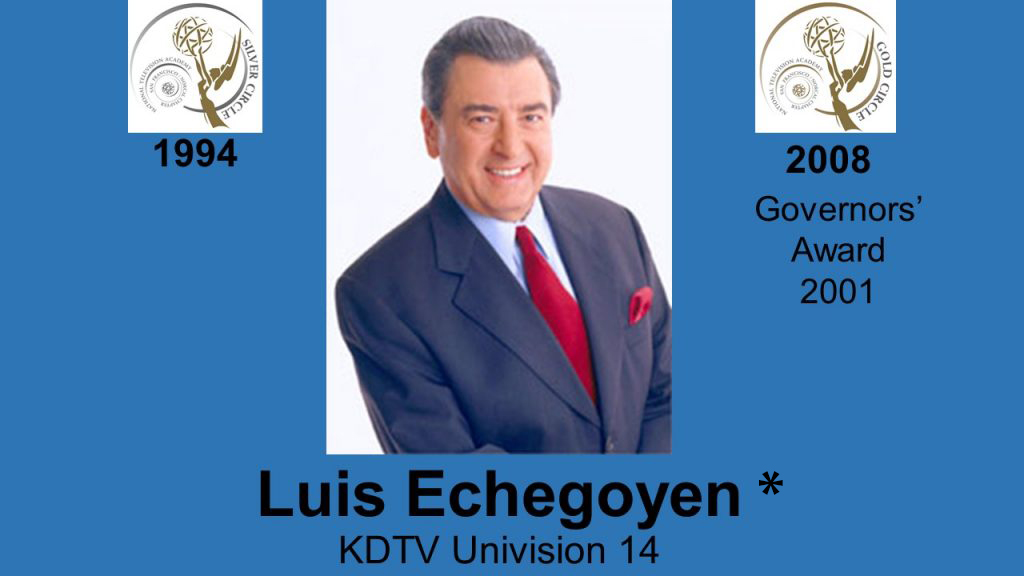 Luis started his career on the stage as an actor at the age of 13 in his native El Salvador. His first television job was in 1956 at YSEB-TV, San Salvador, El Salvador. In 1962, he moved to San Francisco and stints at KOFY, KBRG, KLOK, KIQI radio, KEMO-TV and KQED-TV, and even hosted a national game show. He joined KDTV in 1975 and became a mainstay on the station's evening Spanish-Language newscasts until his retirement in March of 2006. An Emmy® award winner himself, Luis is a former member of the NATAS Board of Governors and founder of the KDTV/NATAS' "Exito Escolar" broadcasting and journalism scholarship program for Latino students. A member of the "Silver Circle" class of 1994, Luis received the TV Academy's highest honor, "The Governors' Award," in May, 2001. He has been instrumental in the founding of a public park and a senior citizens center, organized numerous relief drives to benefit Latin American countries during disasters and lead campaigns for various cultural and arts groups. Luis is still very active in countless non-profit organizations that help Bay Area Latinos, a sought-after speaker and master of ceremonies at community events, a freelance actor, announcer, director and producer of commercials for non-broadcast educational productions and the Principal/Owner of "Hispanic Multimedia," a Public Relations & Advertising Consultant company for the Hispanic Market.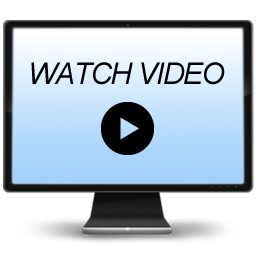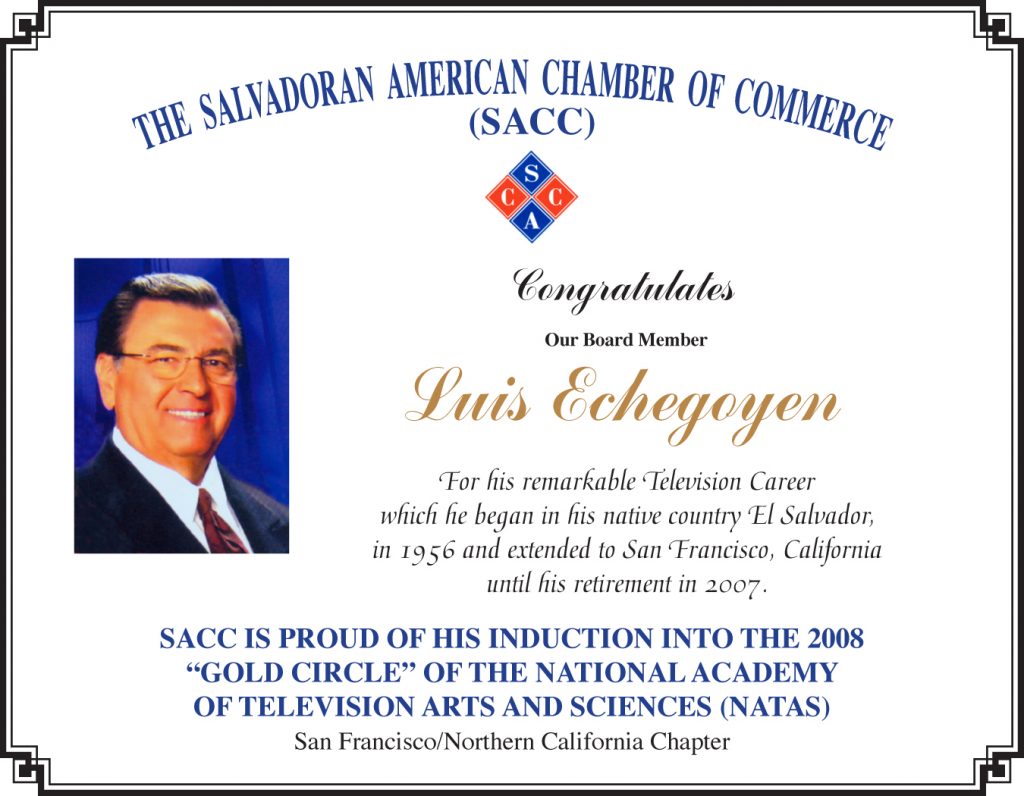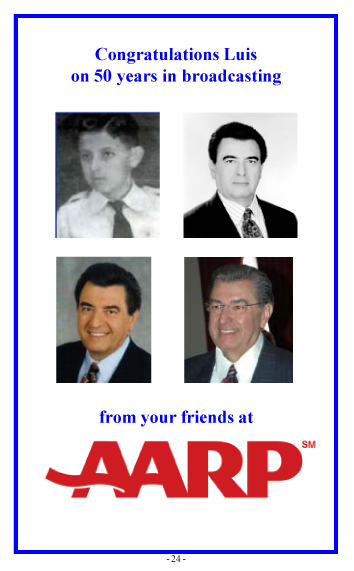 Legendary Univision anchor Luis Echegoyen dies
Luis Echegoyen, the face of Spanish-language news in the San Francisco Bay Area for over 30 years, passed away on Monday, April 6, following a stroke and years of failing health. He was 81.
A TV personality with a booming voice and a dramatic flair, Luis, who had a fruitful 50-year career in broadcasting, retired as anchor of KDTV Univision 14 in 2006. But he didn't leave the spotlight. He would go on to do freelance work and briefly hosted his own show "Aquí con Luis Echegoyen" at the Bay Area's Estrella TV affiliate.
Luis started his career as an actor at the age of 13 in his native El Salvador. He landed his first television news job in 1956 at YSEB-TV in San Salvador. He didn't just do news, he even hosted a game show, showing his great versatility.
He moved to San Francisco in 1962, where he started his U.S. broadcast career working at several radio stations.
Thirteen years later, he helped launch the Bay Area's first Spanish-language newscast when KDTV started broadcasting in 1975 on channel 60 under the Spanish International Network (SIN) banner, later becoming Univision 14.
In addition to being anchor, he spent several years as news director.
Luis remained primetime anchor for the station's weekday newscasts until his retirement in March of 2006.
An Emmy award-winning journalist, he received the National Academy of Television Arts and Sciences' Governors' Award in 2001. That is the TV Academy's highest honor "for truly outstanding and unique accomplishments."
Luis is survived by his wife María Ethyl de Echegoyen Ugarte, their four children, Deborah Linda Cabrera, Luis David, Dernelio Miguel and Rossanna María Echegoyen, three grandchildren and two great-grandchildren.
According to his son-in-law, William Cabrera, California stay at home orders due to COVID-19 make it impossible to hold a service for him at this time, but the family plans to hold a "celebration of life" memorial for him in the future.
On a personal note, Luis was my first news director when I landed my first TV reporter job at Univision 14. I know many colleagues who have worked with Luis throughout the years have plenty of stories and anecdotes to share of a man who remained true to himself and didn't dabble in office politicking. May he rest in peace.