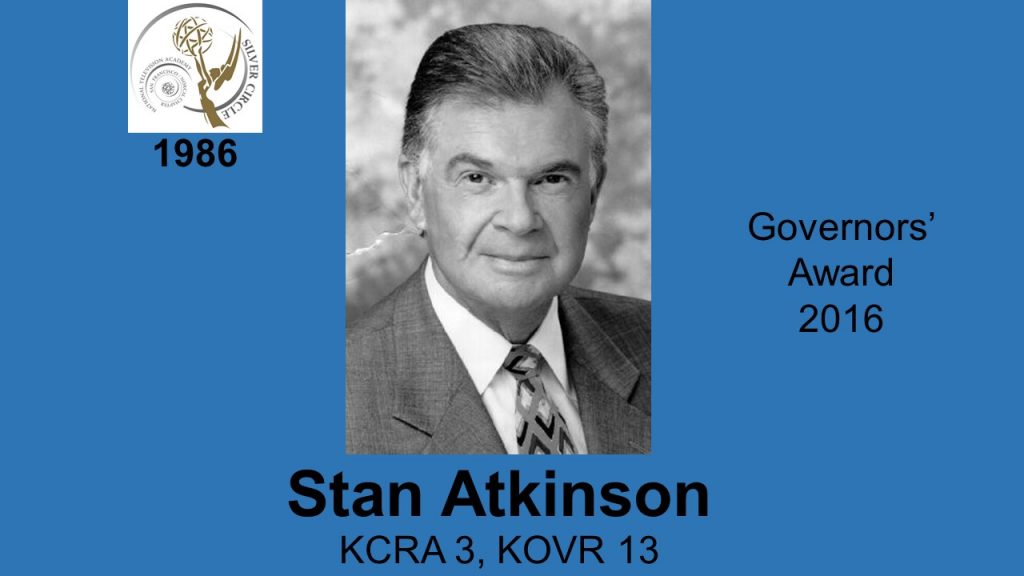 Stan Atkinson remains a public figure and recognized personality in Northern California after 40 years in TV and decades on the air in the Sacramento area – delivering the news. As a TV news anchor, Atkinson traveled to some of the most turbulent places in the world including Afghanistan twice, El Salvador, Somalia, Vietnam and Cambodia, bringing viewers a close-up look as he reported breaking news from the war zones. He wanted to keep his community informed about the fight for Democracy.
Atkinson re-launched his Sacramento career as main anchor at NBC Affiliate KCRA in 1976 and was dubbed by The Sacramento Bee as "The Man Who Owns Sacramento." In 1994, he became principal news anchor for KOVR until he retired in 1999. He remains one of the most popular news figures in the region.
Overseas reporting earned Atkinson three Emmy® awards – two for assignments inside Afghanistan and another for a documentary about Somalia. Atkinson was a principal fundraiser helping to raise money to build the $2.2 million California Vietnam Veterans Memorial on the State Capitol grounds.
Through his Stan Atkinson Foundation, Atkinson has partnered with various organizations including The Sacramento River Cats baseball team and the East Sacramento Rotary to raise money to build River Cat's Independence Field – a multi-use sports and recreation facility for disabled youth and adults.
Before KCRA, Atkinson started a TV station in Santa Rosa. Channel 50 ended up folding and was a heartbreak. But Atkinson's passion for TV news remained pure and ongoing. The feeling and philosophy continue. He says the night in 1999 when he left the studio for the last time, he was as excited and energized about the business as the first day he walked into a TV station.
Today, the personal license plate on his car reads – Old News. But Stan Atkinson remains a legend –  a personality recognized for his service to the community and dedication to the industry of television