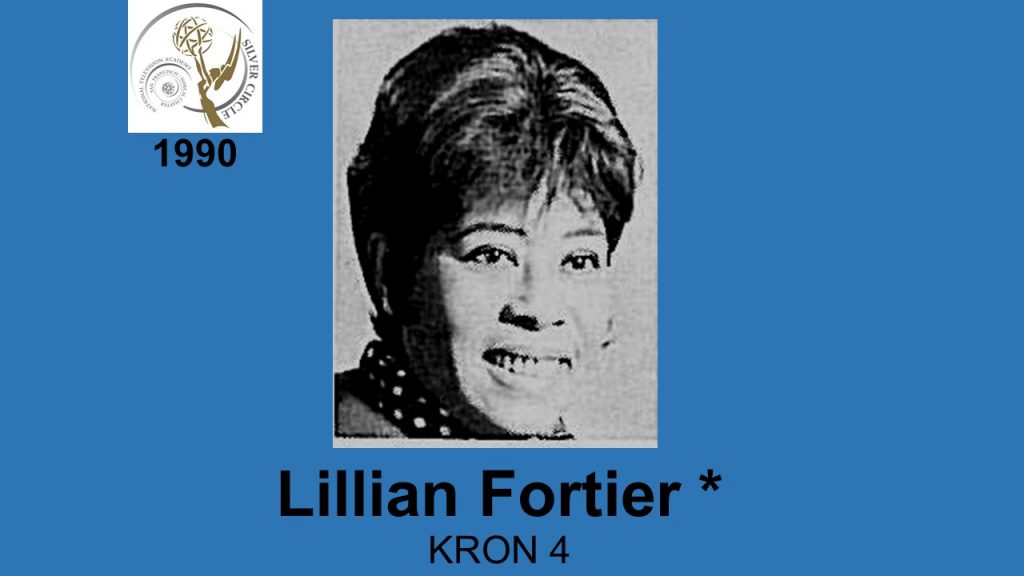 LILLIAN FORTIER. A private  consultant,  Lillian has been on the staffs of KPIX, KQED-TV and KRON­ TV.   In addition- to her work in publicity,  promotion, producer/commentator, writer, public and community relations, she has been active in  founding  ACT-SO annual Broadcast & Print Media Event and Black History Month.
Fortiér Fortitude
Wise Matriarch, Fashionable Socialite, Ingenious Documentarian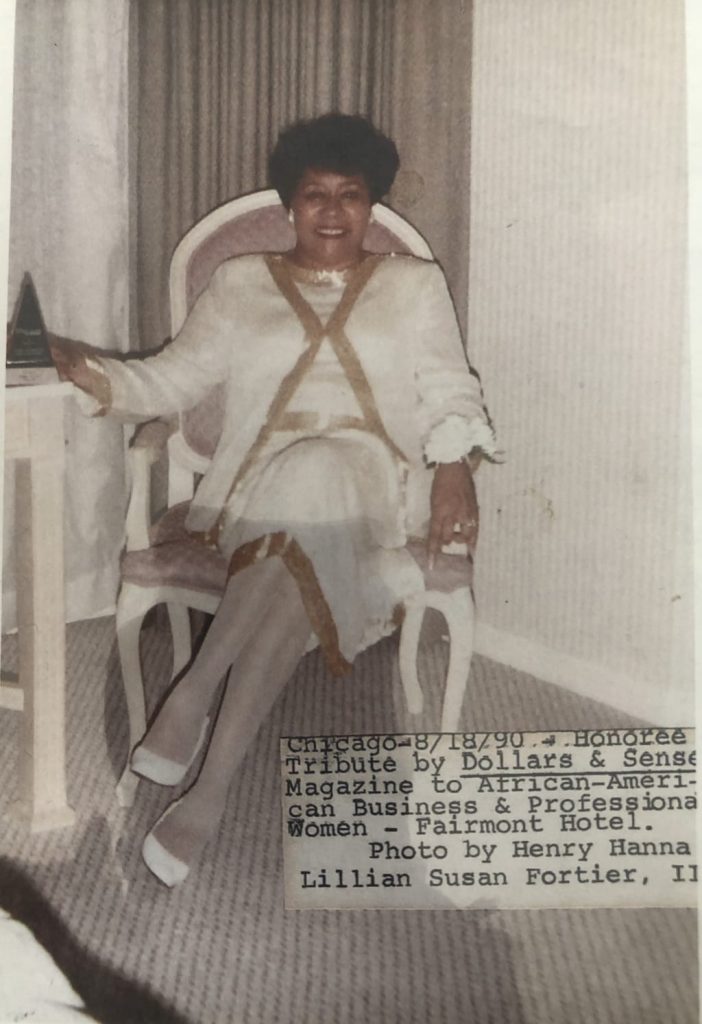 By:  Yasmeen Fortier Bourne, Lillian's Great Granddaughter   April ,2020
Spring 1995 – Emil Villa's Hickory Pit – Oakland, California. Lillian had just waved her waiter away for the third time. They had been seated for almost half an hour and still had not ordered. Lillian, known to her family as Dear, did not appreciate being or feeling rushed.
Across the table from Lillian sat her granddaughter, Rhonda, and Rhonda's toddler daughter, Yasmeen. As they were catching up, the young woman saw, out the corner of her eye, her daughter grasping a sliced lemon and raising it to her mouth.
"Oh no baby, you don't want to eat that," she said, reaching to confiscate the lemon wedge.
Lillian looked up, "don't stop her from eating that," she said mater of factly, "She might like it."
Predictably, the baby did not like the sour taste of pure lemon juice. But, that wasn't the point. She had tried it, and made the decision for herself.
The typical reaction to seeing a baby grab something that may hurt or make them uncomfortable, would be to stop them. However, Lillian was not your typical person with your typical mindset. Insightful, and always paying attention to the little details that may not occur to others; she found that sometimes, if you allow a child's curiosity to play out, it gives them room to make and trust their own decisions.
Wise and proper matriarch, fashionable socialite, ingenious documentarian; The list of hats Lillian wore could go on and on and she wore each one as well as the next.
Lillian Susan Fortiér II was born in New Orleans, Louisiana on March 25th in the 1920's. It is not certain what year Lillian was born, as she did not believe in divulging ones age. She declared that it was only another way people would try to hold you back; by categorizing you as either too young or too old.
Lillian walked into every room like she knew she belonged there. Thanks to her confidence, intelligence and poised nature, within a few minutes of her entrance, everyone else in the room knew she belonged there too.
In a society that has placed countless barriers before both Black people and women, a Black woman entering a space like she deserves to be there is a radical act in and of itself.
In a time when Black women were even more underrepresented in the media than they are today, Fortiér became the first Black woman television executive on the West Coast and worked on the staff of multiple Bay Area networks such as, KPIX, KDIA, KQED-TV and KRON TV. Lillian ultimately retired as the Director of Community Relations for KRON TV after 20 years of service.
In the 1950's she hosted a Sunday morning radio show on KDIA called Notes and Comments Interspersed with Music. During her tenure Lillian served in various roles, including Writer, Commentator, Publisher, Public Relations Specialist and Producer. In the 10 years between 1966 and 1976, she produced 11 television segments and documentaries (with re-runs) ranging in subjects from politics to health issues.
In 1974, Lillian worked to establish the celebration of Black History Month, which had been previously recognized as Black History Week. She also began producing annual television vignettes in honor of Black History Month; a collaboration with the African American Historical and Cultural Society. The vignettes, which aired on KRON 4 went on to be Emmy nominated.
The next year, Lillian produced "Not by the Sword – The NAACP: A Historical Travelogue," a documentary that focused on the history of the Association. The documentary aired on KRON-TV and was nationally syndicated. The NAACP screened the film at a number of their national conventions.
Her contributions to television and broadcasting earned Fortiér membership in the Silver Circle of the National Academy of Television Arts and Sciences San Francisco/Northern California Class of 1990. NATAS is an organization focused on inspiring excellence in broadcasting and television. The Silver Circle sector of NATAS honors those who have made significant contributions to the industry for 25 years or more.
Aside from her career in television, Lillian was also an Entrepreneur. Her firm, Fortiér & Associates provided public relations and promotions services to a range of clients, from bands and clothing companies to political campaigns.
In addition to the many professional titles she held, Lillian was also a determined organizer and activist. She was not only invested in her own success, but the success of others as well; especially that of the African American community and future generations.
In the early 1940's Lillian and her family split their time between Southern California and New Orleans. And by 1954, the family had settled in the San Francisco Bay Area. Being students at Berkeley's Columbus Elementary School (now Rosa Parks Elementary), Lillian's children often checked out books from the nearby Berkeley Public Library. One day upon their return from the library, Lillian noticed that they had checked out a book named Little Black Sambo.
Little Black Sambo was a story written by Helen Bannerman and published in 1899. If it wasn't bad enough that the name of the main character, Sambo, is a derogatory term for Black people, the illustrations accompanying the story were also very similar to blackface. Sambo had wide eyes, very dark brown skin (some versions depicted him as having pitch black skin) and a large mouth, encircled by thick bright red lips.
Lillian tasked her children, Joseph, Dwight, Jaqueline and Alfred with checking out each and every Little Black Sambo book in the library, along with a book titled How the Leopard Got His Spots; a story by Rudyard Kipling that claims the Leopard received his spots from being touched by a Black boy. When the books became past due, the library suspended the children's library cards and access. In response to this, Lillian threatened to go to the media and speak out about the library making these sorts of offensive and distasteful books available to the community.
Instead of requiring the Fortiér children to return the offending books, the Library agreed to discontinue loaning the books out altogether.
Fortiér was instrumental in multiple youth organizations like ACT-SO, for which, she headed the Bay Area Chapter. ACT-SO, short for the Afro-Academic, Cultural, Technological and Scientific Olympics is a youth program descended from the NAACP. Nicknamed the Olympics of the Mind, the program is the largest academic promotion for Black youth in America and hosts competitions in the sciences, humanities, entrepreneurship, and performing and visual arts. In 1978, in order to gain media attention and promotion for the program, Lillian launched the ACT-SO Annual Broadcast & Print Media Luncheon, an event that was often attended by the founder of the program himself, Vernon Jarett.
In 1987 Lillian was recognized for teaching Free Enterprise classes to the students of the Junior Achievement of Oakland – East Bay, the world's largest organization devoted to preparing students for the workforce, while also teaching entrepreneurship and how to generate and manage wealth. She also served as a community advisor for the organization.
Combining her creativity and passion for the health of the Black community, she produced multiple pieces on health issues disproportionately affecting black people, including; breast cancer, hypertension and waste disposal issues; and was responsible for organizing the annual conventions for the Golden State Medical Association, the California chapter of the National Medical Association, which is the largest and oldest national organization representing African American physicians and their patients.
Despite all of her social and professional responsibilities, family and tradition were high priorities for Lillian. She hosted her family on Christmas Eve every year for 47 years. On the evening of December 24th, all of her children, grandchildren, and great grandchildren would come to her house bearing gifts. Lillian would serve dinner, usually her homemade gumbo, and at midnight, the "ho-ho-ho-ing" would begin, and everyone would open their presents. One gift Dear's grandchildren and great grandchildren could always count on receiving from her was a set of matching pajamas. This is a tradition that her family carries on to this day.
A firm believer in transparent communication with children, Dear was always encouraging her children and grandchildren to begin having conversations with their children from the time they were born; pointing things out, identifying items and providing detailed descriptions, etc. She also urged parents to answer their children's questions in detail, which would allow them to learn the way things work and understand why things are the way they are. Answers like "because I said so" or "that's just the way things are" were not acceptable. She often advised her children and grandchildren that believing in yourself was the key to success; telling them, "You've only been defeated if you believe that you have been."
Interestingly enough, Lillian's matriarchal qualities also helped to make her a successful businesswoman. Being a successful business person requires a balance between being respected and admired. Lillian had this down, she was intelligent and relatable which made others feel comfortable seeking her advice or help managing a situation; her fortitude helped her to persist in the face of adversity, and last but not least she could throw a great party.