Click on session to view video

Technology has dramatically transformed TV by opening up the doors to new innovations and – more importantly – more choice for viewers. For an increasing number of viewers, TV doesn't happen on TV – it happens on mobile phones, tablets and laptops. Not only is there now more premium content than ever, but there are more ways to access that content than ever before. Consumer behavior is changing and the TV industry must change with it. Join Hulu Senior VP of Experience, Ben Smith, for a keynote conversation that will explore how Hulu is leading the re-imagination of television by starting with the viewer.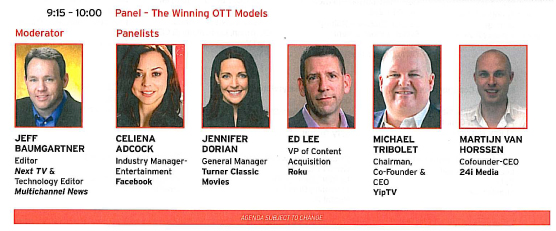 With more internet video services on offer than ever, and more launching every quarter, the TV and video market now has track records on a wide variety of over-the-top models to examine. As consumer habits and the competitive landscape continue to evolve, this panel of experts explores where the biggest opportunities are as they debate which over-the-top models will ultimately win out.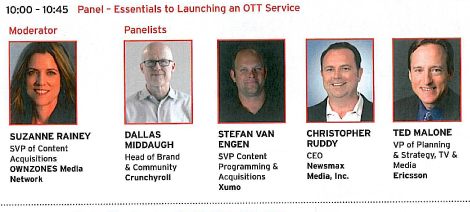 From audience development to determining programming and distribution models to forging important partnerships, this session will identify the key distinguishing factors among the most successful over-the-top video strategies.

With the incredible expansion of streaming and over-the-top entertainment comes both great opportunity — and challenges — for connecting with consumers. In this keynote Q&A, Matthew Anderson, Chief Marketing Officer of Roku, shares his vision for pioneering media marketing in the OTT era and the innovative mindset necessary to drive the awareness and adoption that is so crucial to the next stage of growth of TV entertainment.

With today's wave of digitally-delivered TV and video series comes valuable insight and data about who is watching what and how (think how many ½ hour comedy episodes viewers binge on per sitting) and newfound creative freedoms (flexible episode lengths, for example), all of which adds up to a treasure trove for creators, producers and programmers to inform their content decisions. This high-level panel examines how creators, programmers and talent reps are incorporating data and insight into their strategies for creating the most compelling TV and video of the future.

What's Next in OTT and Streaming: A Wrap-Up with the Editors Moderator: Mark Robichaux, Editorial Director, B&C, Multichannel News and Next TV  Speakers: Jeff Baumgartner, Editor, Next TV and Technology Editor, Multuchannel News and Chris Tribbey, Contributing Editor, Technology, Broadcasting & Cable