–
MEMBER BENEFITS
FREE OR DISCOUNTED ADMISSION to networking events, seminars, workshops, product demonstrations, luncheons, and other Academy activities. Activites 
DISCOUNT on Emmy® Award entry fees. Awards
MENTOR MATCH – Members receive help connecting with professionals across the markets of our Chapter, in person or online. Contact the office
CINEMA CLUB – Special preview and first-run movies, FREE for you and a guest. E-blasts announcing details about attending each film are sent to Members who join the Cinema Club – details here.
OFF CAMERA Monthly Newsletter – News and information from the San Francisco / Northern California, Reno, and Hawaii area television communities – publication announcement emailed to you directly. (For the latest issue, or past issues, see the left-hand column of this MEMBERSHIP page.)
JOB BANK – A free service from The National Academy of Television Arts & Sciences. Job Bank
SPECIAL BENEFITS – These change from time to time and are offered on a limited time basis; one example is free "Member Professional Headshot" Photo Sessions! Ask the office to alert you about the next photo shoot.
–

PROFESSIONAL MEMBERSHIP is a privilege extended to those actively engaged in television who make direct contributions to the industry such as executives, producers, performers, announcers, newscasters, technicians, writers, directors, artists, designers, photographers, and editors, among others.  Active (voting) members must have been engaged in the profession of television for at least one year to be approved by the Membership Committee.
Professional members work in the television community:
at broadcast stations
at cable and satellite companies
as independent television producers and consultants
in academic communications departments
as marketing specialists
as performers or in creative crafts positions
as creators of video content for the web
ASSOCIATE MEMBERSHIP is offered to those who are interested in and support the advancement of television but cannot be classified in the designated professional categories.
STUDENT MEMBERSHIP is offered to those who are enrolled in accredited telecommunications courses at area colleges or universities.
LIFE MEMBERSHIP honors Chapter Presidents at the completion of their term of office.
 _
MEMBERSHIP DUES
Annual Dues (January 1 – December 31)
| | | |
| --- | --- | --- |
| Location | New Member | Renewal |
| San Francisco/San Jose/Sacramento | $120 | $75 |
| Fresno/Hawaii | $95 | $60 |
| Salinas-Monterey/Chico-Redding/Eureka/ Reno/Guam | $70 | $45 |
| Student (no increase) | $15 | $15 |
Pay for two years and save 5%!  Three years save 10%!!
RENEWAL DEADLINE is March 31 each year – unpaid will be moved to "Inactive" on 4/1.
—
Apply Now!
Fill out a NEW Member Application online: New Membership Application
Returning Members can Renew Membership here.
Enter your Member Number and Password – or your E-mail Address and Password, then click the "I'm not a robot" button and then Enter.
New membership benefit – FREE HEADSHOTS!
Membership chair Mike Moya is a professional still photographer providing free Headshot Photo Sessions for NATAS members.  One was held in the Spring 2017 at Laney College in Oakland. The next session will be in Sacramento.
We will send out a Member E-blast with more information when the date is set.
Here are the Spring 2017 Headshots!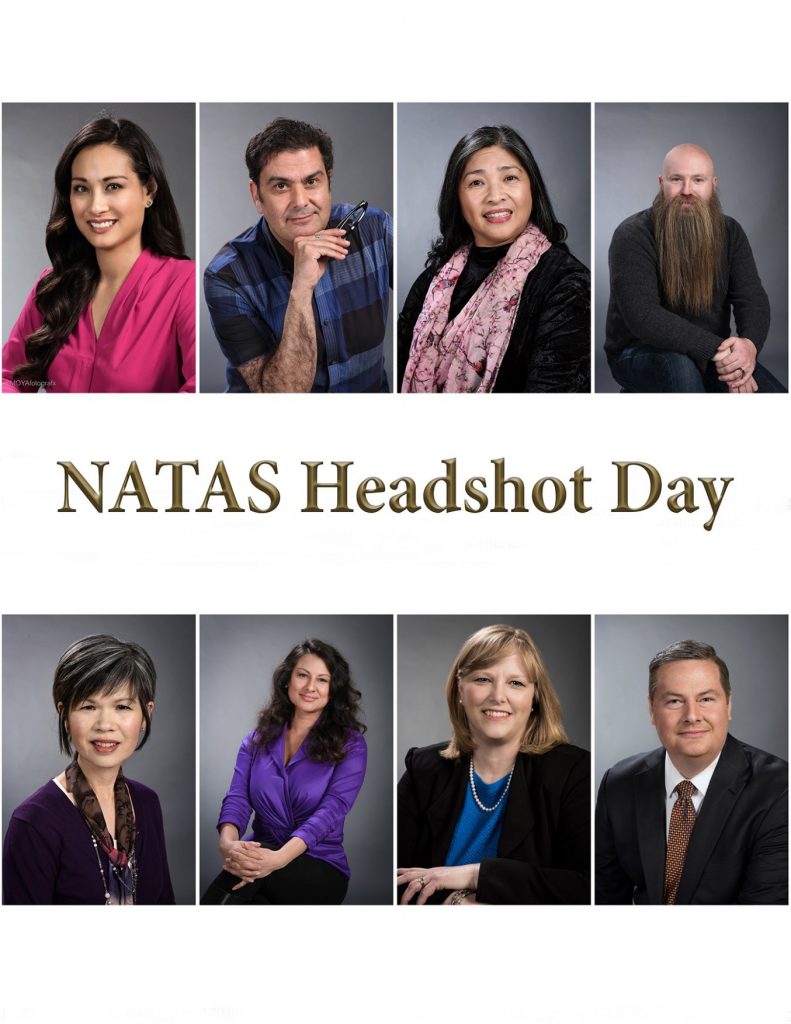 ---
---
MEMBERSHIP COMMITTEE DETAILS
MEMBERSHIP COMMITTEE: The Membership Committee is responsible for membership recruitment and benefits. This committee shall also oversee activities designed to increase and maintain Chapter membership. It is also responsible for administrating the Professional Development Grants Program that gives television professionals opportunities to update their skills via enrollment in educational training programs with paid tuition. The Television Academy Office shall review all applications for membership in the Chapter, classify members in accordance with membership categories adopted by the Board of Governors and determine the eligibility of the applicants for membership in this Chapter.
MANAGEMENT RELATIONS. This subcommittee shall strive to build a relationship between the Chapter and top management at TV stations and production houses, and to have management encourage their employees to become members of the NATAS and participate in its activities and Emmy® awards process.
PROFESSIONAL DEVELOPMENT GRANTS. This program annually awards grant money to television professionals seeking to upgrade their skills. The grants are divided equally among four geographic areas and must be for formal instruction at recognized or certified educational institutions
MENTOR MATCH PROGRAM. This program takes television professionals who want to become more proficient in their field and matches them with seasoned professionals in a different market, who are willing to look at their work and provide critiques and suggestions for improvement and encouragement.
AREA COUNCILS. Each of the five (San Francisco, Sacramento, Fresno, Reno, Hawaii) councils are made up of the area vice presidents and other members who work professionally in that area. Their main purpose is to discuss pertinent issues and coordinate activities specific to that region of the Chapter.
Station Representatives: a NATAS representative at each station, cable, production company to answer questions about NATAS and recruit members, inviting members to renew, and recruiting new members.
Membership Committee Contact:
(650) 341-7786 or (415) 777-0212
Email: office@emmysf.tv