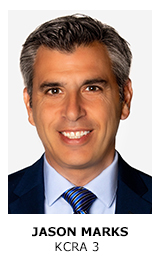 GOVERNOR 2023-2025
Jason Marks
Reporter, KCRA 3
Jason is no stranger when it comes to serving as a Governor for the regional Emmys. He spent four years on the Capitol NATAS Board. Once his term was up, he remained on the Gala planning committee. Now he hopes to do the same as part of the NorCal NATAS Board.
Jason came to KCRA in 2021. During his career, he has been honored to have been presented eight Regional Emmy® Awards, two Edward R. Murrow awards, and several Virginia Association of Broadcasters, Virginia Associated Press and NorCal Society of Professional Journalist awards.
Most recently, Jason worked at WAVY TV 10 in Virginia where he started in 2006. He covered a variety of stories, from the tragedy at Virginia Tech to every hurricane to hit northeast North Carolina over the last decade. He also spent more than a year investigating a Chesapeake OB-GYN who was found guilty of performing unnecessary surgeries on his patients. The work was highlighted as part of a 10-part docu-series called "The Patients vs. Perwaiz."
Before working at WAVY Jason spent time at WHNT in Huntsville, Ala., as a Reporter and as Sports Director in WBBJ in Jackson, Tenn.