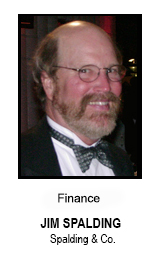 Governors' Service Medallion  1994
Treasurer:  1988-1994, 1999-2004, 2014-2018
Finance Chair:  1992-1997, 1998-2001, 2003-2014, 2018-2021
Governor:  1988-1989
James H. Spalding Jr., Principal of Spalding & Company, has more than twenty-five years of professional, managerial and administrative experience in production, distribution, broadcast and media communication business including non-profit organizations.
As Principal of Spalding & Company, Jim is providing tax advice and preparation services, financial and general management consulting services to the businesses and professionals in the film and video community and a variety of other enterprises. In addition, the Company provides accounting and computer consulting. Jim has written a column dealing with taxes, finance, management, and accounting published in the San Francisco Bay Area Film/Tape Council's monthly newsletter, FILM/TAPE WORLD and also THE CHEAP REPORT.
As Vice President and Chief Financial Officer of One Pass Film and Video (Editel / Unitel Video), Jim provided financial and business management for the San Francisco Bay Area's premier production company and facility. Jim's leadership and management know how helped One Pass to create a new and expanding production market in Northern California while annually increasing its own financial strength.
As Chief Financial Officer of KQED, Inc., Jim provided business, financial, contracting and accounting management for Northern California's Public Television and Radio organization. Jim helped KQED change from a deficit prone local broadcaster to a financially sound holder of multiple broadcast licenses and the producer of national and regional program series. Jim was a member of the steering committee which established PBS's cost accounting guidelines, and has successfully experienced audits by PBS, CPB, And the Government Accounting Office (GAO).
As Audit Supervisor of Arthur Young & Company, Jim became proficient in the areas of practical accounting, tax and report writing. These skills formed a solid career foundation for taxes, management and consulting.
EDUCATION, DIRECTORSHIPS, AND ASSOCIATIONS
Jim has earned a Masters of Science in Taxation from Golden Gate University, a Bachelor of Arts in Economics with minors in Accounting and History from the University of Michigan. Jim is the Treasurer, Board of Governors, San Francisco Chapter, National Academy of Television Arts and Sciences and has received its Distinguished Service Award; formerly on the Board, (formerly CFO), San Francisco Bay Area Film/Tape Council, and formerly on the Board of Directors of the Film Arts Foundation. Jim is a member of the American Institute of Certified Public Accountants and the California Society of C.P.A.'s.
Jim has two daughters, and two granddaughters. Jim lives in San Francisco.
James H. Spalding Jr.
C.P.A., M.S. Taxation
Spalding & Company
180 De Soto Street
San Francisco, CA 94127-2813
T/F (415) 337-6799
M (415) 517-2539
cspalding@gmail.com