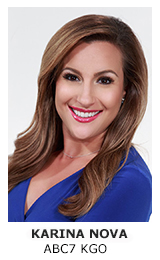 GOVERNOR 2023-2025
Karina Nova
Anchor/Reporter, ABC7 KGO
Hello, my name is Karina Nova. I am an anchor and reporter for ABC7 News Bay Area, focusing on the expansion of our streaming product. Currently, I anchor our new 5:30pm streaming newscast, which is a nontraditional newscast. We focus on several big stories of the day, interviewing the journalists and experts behind them to give our viewers more context and greater understanding with longer form segments.
Prior to working at ABC7 News, I spent most of my career at WBNS 10TV News in Columbus, Ohio. During my 15-year long career at WBNS, I worked as a traffic reporter, general assignment reporter and ultimately, became the weekday morning anchor. I truly enjoyed becoming a part of the community, and I'm particularly proud of my fact-checking stories as part of the Tegna VERIFY team's efforts to stop the spread of misinformation. I was honored to win an Emmy for the breaking news coverage of a massive train derailment, spending a total of 7 hours that day in the helicopter, shooting video and reporting on the disaster.
I would be honored to contribute and serve on the NATAS board. I think it's important to be involved in NATAS and I hope to provide more support to my fellow journalists by taking on this role.