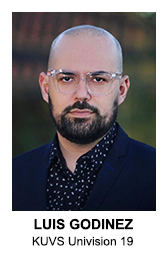 Governor:  2013-14 Replacing Karen Todd Griffin, 2014-2018, 2020-2022
Luis Felipe Godinez is a Journalist with 16 years of experience. He has worked in different markets such as San Francisco, Las Vegas Denver, and Amarillo. He is currently a News Director for Univision Sacramento. He was previously an Assistant News Director and Executive Producer for KDTV Univision 14 in San Francisco overseeing the content of the 6pm and 11pm newscast. He has produced various news series, breaking news coverage, sporting coverage and news specials. Previously he worked as Anchor/Producer for Noticias Univision Nevada in Las Vegas.
Godinez is an Emmy® award recipient and is actively involved in the Association of Hispanic Journalist and was a NATAS SF board member from 2013-2018.