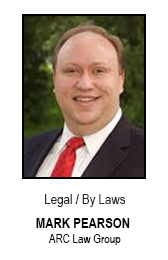 Governors' Service Medallion 2019
Legal Bylaws Chair:  2012-2023
Mark A. Pearson is a founding partner at ARC Law Group (www.arclg.com), a San Francisco based law firm focused on counseling Creative, Talented and Entrepreneurial clients.  His primary practice areas involve forming business entities, counseling on trademark & copyright issues, and drafting contracts.  His list of clients includes musicians, actors, film & television producers, live entertainment companies, video game developers, online content providers and artists.  Mark has negotiated deals with Disney, HBO, LucasFilm (Skywalker Sound), the Golden State Warriors and MTV Networks.
Along with his practice, Mark also serves as the Legal Chair on the Board of Governors for the San Francisco/Nor-Cal Chapter of the National Academy of Television Arts and Sciences (NATAS) and as an Advisor Board Member for California Lawyers for the Arts Music Business Seminar.
Mark received his B.A. from Arizona State University (1997), and his J.D. and Intellectual Property Law Certificate from Golden Gate University School of Law (2005) in San Francisco.   He is a member of the Intellectual Property Law Section for both the ABA and California Bar Association.
Before becoming a member of the Bar, Mark was an award-winning television journalist. He covered a variety of national and local stories for several network affiliates, including a two-year stint on the Iditarod Trail in Alaska for ABC.
An accomplished author and public speaker and is often asked to speak or is interviewed for his views on copyright, trademark and the entertainment industry. Mark is also a contributor to the Business, Entertainment, Sports & Technology (B.E.S.T.) Law Blog (www.best.arclg.com) and Podcast (https://itunes.apple.com/us/podcast/business-entertainment-sports/id513764391?mt=2).
Mark can be contacted at mark@arclg.com.  You can find ARC Law Group at www.arclg.com.