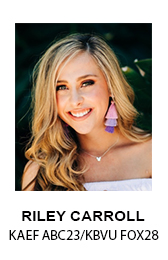 Governor:  2021
Riley is a multimedia journalist for KAEF ABC23 and KBVU FOX 28, Eureka.
Riley graduated from California State University Fullerton in 2018 with her Bachelor's degree in Journalism and American Studies. She earned her Master's degree in Communication Management from the University of Denver in 2020. She was president of her sorority, Alpha Chi Omega, in college and continues to advise for several Alpha Chi Omega chapters in California.
During her time in school, she interned at CBS Daytime Television and Entertainment Tonight. She helped launch the "#1 for 30" campaign in 2016—celebrating CBS Daytime's lineup as number one for 30 years straight. She also worked as a production assistant for the daytime talk show "The Talk" on CBS.
In her free time, Riley hosts her own podcast called "Life of Riley" where she enjoys interviewing guests about their lives and interests.