BECA NATAS MEDIA MELD
SATURDAY, MARCH 4
San Francisco State Broadcast and Electronic Communication Arts (BECA) Open House and Media Tips customized for NATAS SF/Nor Cal Members and Guests!
JOIN FOR SOME OR ALL OF THE DAY!

9 am – Welcome (Continental Breakfast)
9:30 am – Tour the new building
10:45 am – 11:20 am  Professional Breakouts #1 
          Flying Drones or Lighting Green Screen
11:25 am – 12 noon  Professional Breakouts #2
Studio Make-Up or MMJ Van
12 noon – Mixer and Networking (Refreshments provided)
2:00 pm – Alumni interviews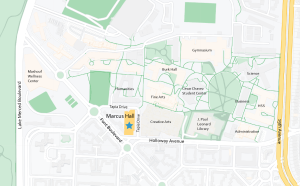 SF State, Marcus Hall / BECA, 8 Tapia Drive, San Francisco
(Free parking around the building)
---
On the Tour (9:30am to 10:30am)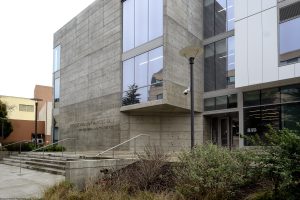 The tour begins at the entrance to Marcus Hall, the new home to SF State's Broadcast and Electronic Communication Arts (BECA) Department. There'll be coffee, tea & light snacks in front a snazzy monitor wall.
See where students get cutting-edge training in many areas, including TV, radio, podcasting, video production, audio production, sound art, aesthetics, multimedia, writing for and about media, law and regulation, performance, business, and media management.
Each production area designed as a teaching facility. Studios lavishly equipped with state-of-the-art digital cameras and production equipment.
There are three studios, an audio production suite already producing content. Under SF is San Francisco State's very own live-produced variety show.
State of Events is a newscast produced by students in BECA 660. During the semester, you can watch every week to get the latest information on current events going on in San Francisco. This show is produced on a news set featuring shades which open and reveal the campus in the background.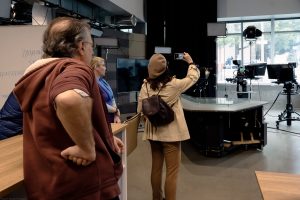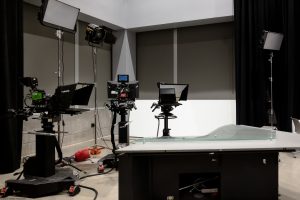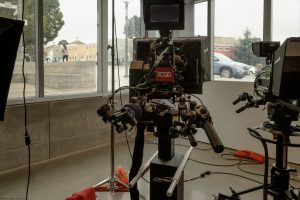 Students run a radio station, KSFS Radio: Embrace the Chaos, which is broadcast live from their new studio space.
---
The Department of Broadcast & Electronic Communication Arts (BECA) is the largest and most influential program of its kind in the western U.S.
BECA has taught some of the top names in broadcast journalism, entertainment television, and new media. BECA is an inclusive and diverse learning community that emphasizes the intersection of media theory and practice, mirroring the wide range of cultural, artistic, and scholarly interests in the San Francisco Bay Area and beyond.
Video – About Marcus Hall – chronicling the achievement of Marcus Hall
CONGRATULATIONS BECA on the new building and state-of-the-art facilities!
See you March 4
---
Breakout Session One (10:45am – 11:20am)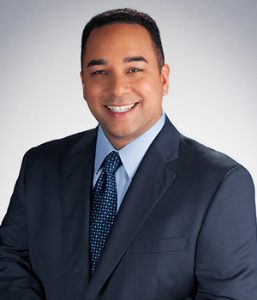 Devin Fehely – Drones
CBS Bay Area KPIX5, Anchor/MMJ

or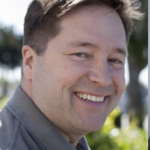 Robert Erdiakoff – Green Screen Lighting Techniques
KTVU FOX 2, Studio Production Supervisor
Breakout Session Two (11:25am – 12noon)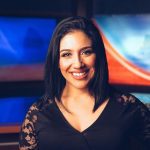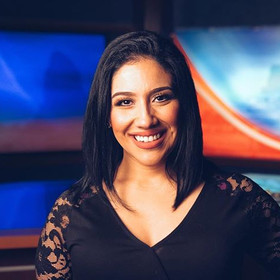 Nazy Javid – Studio Makeup Best Practices
KRCR 7, Assistant News Director/Anchor
or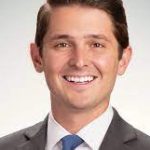 Max Darrow – MMJ Truck Tour and Production Tips
CBS Bay Area KPIX5, Reporter/MMJ
---
Lunch / Mixer – Noon to 2pm
After the Breakout sessions, enjoy a light lunch mixer, with BECA alumni and NATAS members and guests from noon to 2pm.
(Pictures by Susan A Bradley & BECA)
---
ALUMNI INTERVIEWS
Talent nurtured at San Francisco State University has gone on to entertain, inspire, and inform worldwide, garnering Emmy, Oscar, Tony, Drama Desk, Golden Globe, Grammy, Peabody, and Theatre World awards.
Might include some of these past Alumni:
From KQED:
Meredith Speight – Program Director (Class of 2006)
Bess Myles – "Above the Noise" Host/Producer (Class of 2019)
Amanda Font – Dirctor/Producer "The California Report (Class of 2015)
From KPIX:
Ken Bastida – News Anchor
Dennis O'Donnell – Sports Director (Class of 1982)
Andrea Nakano – Sports Anchor
Brian Kiley – Photgrapher/Editor
Owen Modeste – Sports Producer
Brian Dea – Sports Executive Producer
Jeremiah Ysip – Photographer / ii Time Emmy Recipient
Brian Yuen – Photojournalist (Class of 1991)
From KTVU
Frank Somerville (Former KTVU Anchor)
Ed Cosci (Former Head Engineer)
From Laney College
Marla Leech (Media Communications Professor)
Steve Shlisky (Media Department Co-Chair MS Class of 2000)
San Francisco Giants
Paul Hodges III – VP of Content & Entertainment
Dr Phil
Carla Pennington – Executive Producer
Jodi Sanders – Executive Production Coordinator
The Doctors
Anita Pepper – Senior Producer
Top Chef
Rich Brusa – Supervising Producer – Class of (2007)
American Idol
Melissa Elfar – Producer (Class of 2008)
---
BECA Archive – Remembrance of the Way it Was
JOIN FOR SOME OR ALL OF THE DAY!
9am – Welcome (Continental Breakfast)
9:30am – Tour the new building
10:45am – Professional Breakouts
12 noon – Mixer and Networking (Refreshments provided)
2:00p – Alumni interviews
SF State, Marcus Hall / BECA, 8 Tapia Drive, San Francisco