51st Annual Northern California Area Emmy® Awards   2021-2022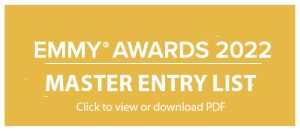 Click refresh for V4 1/26/22
Check items in RED need attention
Any changes or corrections, move your entry to a different category must be done by this Friday, Jan. 28th .  Items in RED will be disqualified and removed on   Friday, Jan. 28.  You can pay invoices and upload video from your dashboard.  You need to contact the Academy Office to make any changes to the master list. Email: emmy@emmysf.tv  650-341-7786
All changes, refunds, etc. subject to $25 processing fee.

Dear Emmy® Awards Contestants,
Thank you for your submissions. They reflect excellent work despite our Covid Challenges in 2021. It's inspiring.
When the extended deadline closed on Friday night, January 21, we had 929 combined entries. They include 804 in the English contest, and 145 in the Spanish categories.
Click on Master Entry list above.  Please consult that document carefully, and for more than the sake of curiosity.
Ultimately, you bear responsibility for your entries. Check to assure you included all names, payments, videos, or other omissions. 
FRIDAY-JANAURY 28 – ALL ENTRIES WITH UPAPPROVED VIDEO, ALL UNPAID ENTRANTS WILL BE DISQUALIFIED AND REMOVED FROM THE CONTEST.
Also please look at the competition. For the sake of fairness to everyone, the Awards Committee certifies every entry, but with so many submissions from over two-thousand entrants, we need your help. If an entry strikes you as not being right, please be in touch.
Among the common mistakes:
**Double-dip duplicate submissions
**Inappropriate entrants or job titles
**Work that does not fit contest guidelines as defined in our Call For Entries
The Master List will remain fluid until January 28 while some competitors move their work into different categories.  If you want to do so, contact Darryl Compton in the Academy office.  He's available by email (emmy@emmysf.tv), and telephone  (650-341-7786).  Any changes, refunds, etc. remain subject to a $25 processing fee. Pay invoices and upload videos from your dashboard.
Names can be added to entries until March 31, contact the office.
Thank you again for supporting the contests. After certification, your individual entries go to multiple chapters for judging.
We announce nominations on Wednesday, May 11.
We hope to see you at the gala on June 11th.
As always, feel free to reach out with questions or comments.
Sincerely,
Wayne Freedman, Awards Chair
wfreedman@emmyonline.tv
SAVE THE DATE:
NOMINATIOINS ANNOUNCED-WEDNESDAY, MAY 11, 2022, 8AM
EMMY® 2022 GALA – SATURDAY, JUNE 11, 2022 SF HILTON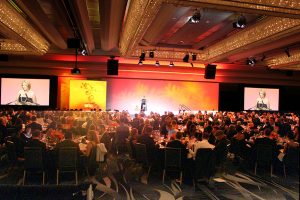 Interested in a Sponsorship, contact Gala chair Julie Watts