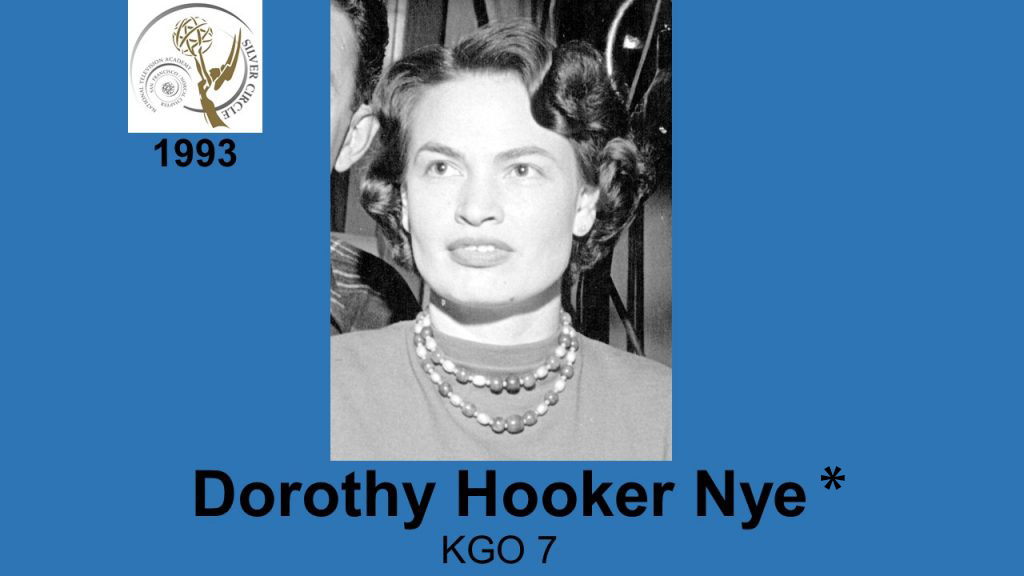 DOROTHY HOOKER NYE She was the first woman director of live commercial television on the West Coast-and probably in the country. In the early 1950s, Dorothy and Ida Lupino were the only women in the Radio-TV Directors Guild. Starting out at KTLA, Los Angeles, Dorothy moved to San Francisco in 1948 and helped put KGO-TV on the air. She directed her first program (Les Malloy's interview show) in 1949. When she resigned in 1959, to pursue a career as a writer/film producer, she estimated she had directed 4,000 individual programs and produced 2,500, of which about 1,500 were musical variety shows.
Dorothy Hooker Nye
October 10, 1913 ~ October 27, 2011
MONTEREY, CA – Dorothy Hooker Nye passed away of natural causes on Thursday, October 27, 2011. She was born on October 10, 1913, and lived to the age of 98 years.
In her last several years Dorothy lived at the Monterey Pines Nursing Home, in Monterey.
Dorothy had a long career in the film and television industries. In the 50s, she worked at television stations in San Francisco where she was the first woman TV director, and created the Jack LaLane Show, the first exercise program on television.
Dorothy was a long-standing member of the Director's Guild. In her later career she focused on directing documentaries, and was a docent at Pt. Lobos State Park.
She was not survived by family. Rest in Peace.