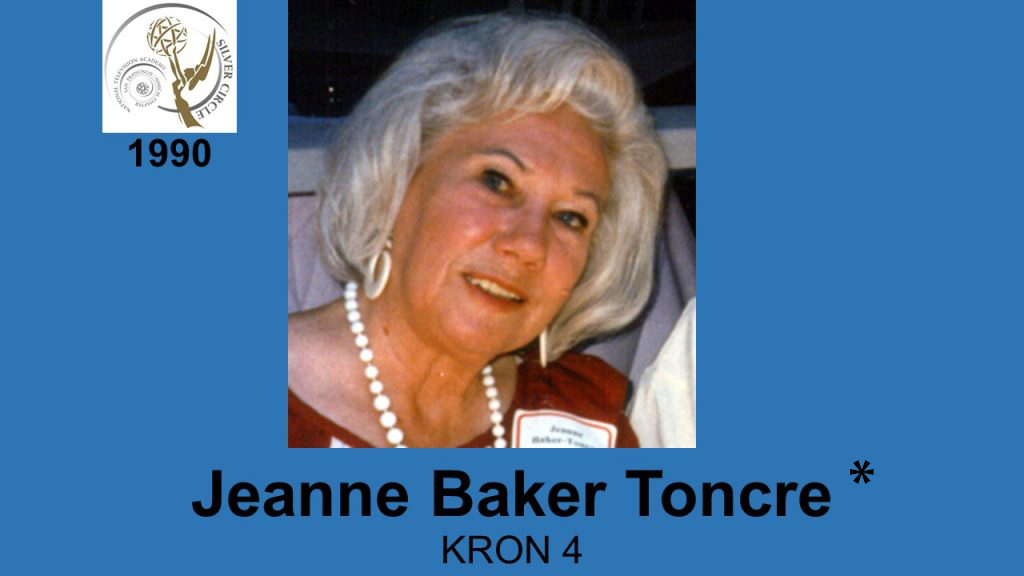 JEANNE BAKER-TONCRE. Formerly Director of Community Affairs at KRON-TV, Jeanne conducted more than 200 publicity workshops for non-profit orga­nizations, and managed student intern programs. She has produced many television programs, including the award-winning "Youth Inquires,, for 15 years. Jeanne later became Director of Media & Community Relations for the State Bar of California and is now a media con­sultant.
Obituary of Jeanne Muriel Baker
Jeanne Muriel Baker,  formerly of Mill Valley and Tiburon, California, died Monday, November 26, 2018, in Chapel Hill, North Carolina.  She was 93.
Jeanne  was born in New Orleans on April 9, 1925.  She attended Louisiana State University in Baton Rouge where she was a member of the Alpha Eta chapter of Phi Mu. In 1943, she moved to New York City to attend the American Academy of Dramatic Arts, after which she performed in radio soap operas on "Pepper Young's Family," "Right to Happiness," and "Backstage Wife." In 1948, she married Arthur C. Toncre and for the next few years their career opportunities took them to Salt Lake City, New Orleans and Venezuela.  In each location, Jeanne worked in broadcasting including as a publicity director, assistant production manager, on-the-air personality and copywriter.  While in Venezuela, she was the editor of the Creole Petroleum Company's weekly newspaper and a columnist for the Caracas Daily Journal. Following her divorce in 1961, Jeanne along with her three children, relocated to Mill Valley.  For the next 15 years she worked at KRON-TV in San Francisco where she was a publicist, Director of Women's Community Affairs, and Director of Public Affairs.  During her tenure at KRON, she was producer and host of a weekly teenage panel show, "Youth Inquires," and also was producer and director of a documentary "The Year of the Woman," created in observance of International Woman's Year in 1975.  She was very active in the Soroptimist International of San Francisco and was involved with the Golden Gate Chapter of American Women in Radio and Television (AWRT), for which she served as president in 1971. In 1990, she was named a member of the Gold and Silver Circle of the National Academy of Television Arts and Sciences. Later she became Director of Media & Community Relations for the State Bar of California.
In addition to her professional affiliations, Jeanne also was involved in the community.  She served as a Girl Scout leader and Boy Scout Den mother in Mill Valley, and event coordinator and docent for the Lyford House in Tiburon. She enjoyed family outings with her children that included lots of camping trips and traveling throughout California and across the states.  On her own, she traveled extensively and visited nearly every state, Mexico, Europe, South America, the Caribbean, and China.  As soon as one trip ended, she began to plan her next trip.  Her favorite trips included traveling by wagon train in Wyoming, and a three-stage Mississippi River cruise that began near the origins of the Mississippi in Minnesota past New Orleans into the Gulf of Mexico.  She moved to North Carolina in 1997 to be closer to family.
Jeanne is survived by three children:  Lance Toncre of Jackson, CA;  Robin Vail of Chapel Hill, NC; Nanette Edwards of Rockport, MA; five grandchildren: Alicia Flemming of Jackson, CA; Colleen Edwards of Brookline, MA; Stephanie Toncre of Long Beach, CA; Holland Edwards of Fairfax, VA; Justin Vail of Chapel Hill, NC; and three great grandchildren: Lathan Flemming, Dakota Flemming and Cheyenne Flemming of Jackson, CA.