By Joyce Mitchell
Chapter Vice President, Sacramento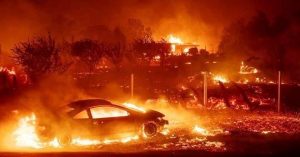 San Jose-San Francisco-Oakland KNTV NBC Bay Area: Through the eyes and viewfinder of photojournalist Mykie Vang from the Camp Fire in Paradise, working for KNTV and informing viewers is his job. At the same time, he's got a strong sense of humanitarian duty, collecting dramatic images and information to share on Facebook.  "A firefighter never runs away from the fire," Vang said. "The same is true with me. A news photographer never runs away from news." Vang has covered tough stories,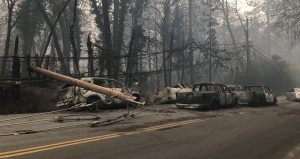 including the Boston Marathon Bombing and the Sandy Hook school shooting. "There's no comparison when covering tragic events," he added. "One person lost is one too many."
Vang has received Emmy® awards for outstanding achievement. However, of most importance, he said that his job comes with a responsibility to educate viewers – and now – personally – his friends. While I'm working, I'm also grabbing photos and media from my phone to inform people on Facebook. That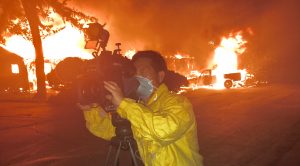 way, people don't have to wait until the 11 p.m. news to get updates." Vang said that covering the fire has been heart-wrenching, watching people lose everything. In many cases, people lost their lives as caravans of cars trying to escape erupted into infernos.
Vang has been a photojournalist for 25 years. "It was the first time in all those years of covering breaking news that I've ever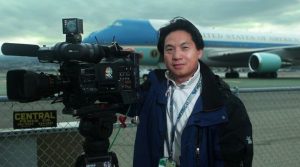 seen firefighters feel so helpless. Saving lives was their first priority." Vang has friends from Chico, Oroville and co-workers in Paradise. That made social media a priority for him. "In a way, it was also just to let them know they're not alone." Photographs and video courtesy Mykie Vang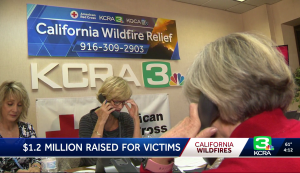 Sacramento KCRA Channel 3: Skies over northern California have been so smoke-filled that in many areas, the air has been deemed dangerously unhealthy. While bad to breathe, the smoky air is more than tolerable compared to what many Butte County residents are enduring as a result of the Camp Fire.
TV stations throughout the region have provided opportunities for viewers to donate and help fire victims. Sacramento NBC affiliate KCRA dedicated airtime for a telethon, teaming up with the American Red Cross to raise money for wildfire victims. Viewers watched and overwhelmingly responded. KCRA was able to raise $1.2 million. The Camp Fire is the deadliest, most destructive wildfire in California history.
Sacramento: For the second time in the past several weeks, a Sacramento-area TV crew has had equipment stolen from a news vehicle. A CBS13/Good Day crew was robbed at about 5 a.m. while covering a story at UC Davis last month. Recently, a KCRA news crew was burglarized in a suburb of Sacramento at about 6 a.m. Their van was in a parking lot and they went to grab a cup of coffee. When they returned, the photographer and reporter saw that a window had been smashed and their camera and a backpack containing at least one laptop had been stolen. They called police.
Investigation of a suspicious vehicle that was seen nearby lead to an arrest. The camera and other equipment were recovered. Two men in their late 20s were booked into the Sacramento County Jail.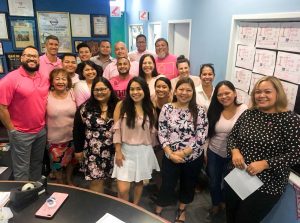 Guam KUAM – It was Think Pink Day Oct. 22 at KUAM TV in Guam. It's been five years since the station launched Think Pink Day and it's still going strong. The date marks the birthday of KUAM Office Manager Christie San Agusin, a breast cancer survivor.
On "Think Pink Day," we invite our community to join us by wearing pink and posting special tributes to survivors and those who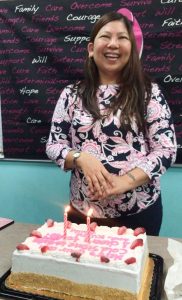 have lost their lives to breast cancer by using #thinkpinkguam on their social media accounts" said Lacee Martinez of KUAM. "We created a special sign they can pick up at our office or download to commemorate their loved one's name." All in the name of awareness and saving lives.

Atlanta: Fall 2018 National Trustees Meeting – National Academy of Television Arts & Sciences – USC freshman Saul Singleton paused the meeting with emotion when a portion of his scholarship award-winning project was shown to national trustees from the Academy.
Singleton was presented with a $10,000 scholarship by the National Academy to support his storytelling endeavors. "Discrimination, it just happens without question," Singleton said. "I want to change that and TV is an important medium. I want queer people to know they make a difference." Singleton said that his video displays a demand to retain his voice as an artist. Entitled, Since the First Day We Met, Singleton's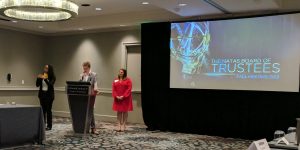 story line revolves around a deaf boy's crush on a fellow student. In the end, the two boys share a quick kiss.
That kiss got the video thrown out of the running at Singleton's high school film festival in Maryland. Singleton, who is gay, responded by saying the rejection was shocking. "All they did was kiss," he said. "If a straight couple did it, it would be fine." The rejection was eventually reversed. Now in college, the video is earning Singleton national recognition.  WATCH: https://www.youtube.com/watch?v=Py4CW0SQP6U
Fresno KFSN ABC30: Gaby Ornstein is calling it a wrap. After working 35 years as a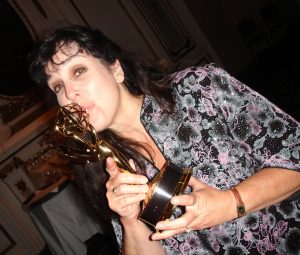 photojournalist and editor, she's decided to retire.
Ornstein was one of the first women photographers in the industry when she started at ABC30.
She's received multiple Emmy® awards for her work. "Gaby has always taken an extremely high level of pride in her job and her attention to detail is unmatched," said ABC30 News Director Mike Carr.
"Gaby tells me it has been an honor to be part of the Action News team for so long. I think all of us would agree it has been an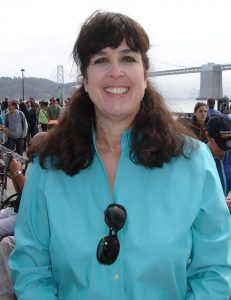 honor to have the opportunity to work with her."
Ornstein said that her tenure at KFSN has been a fun and positive experience.
"It has been a privilege to work for the No. 1 station (in Fresno) for so long," she said. "Thanks again for all the fond memories."