by Keith Sanders
Chapter Education Chairperson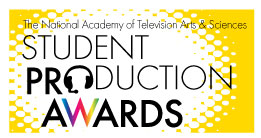 It's too late to enter this year's Emmy awards contest, but if you're a high school teacher, there's still time left to enter the Regional Student Television Awards for Excellence. The administration fee is $25 per entry and the deadline is March 15, 2018.
The High School Awards Call for Entries has details.
If you know a high school in your area with media program, we would be glad to contact them about this opportunity. Please send the name of the school to Chapter Executive Director Darryl Compton Darryl@emmysf.tv.  Entries can be submitted by High Schools with media programs in our chapter's region, Visalia to the Oregon border including Reno, Nevada, Hawaii and Guam, for work done from March 1, 2017 – February 28, 2018.
The "Award for Excellence," an engraved glass pillar, is presented to the school with each student receiving a certificate.  Each student receives a certificate for the "Award of Merit."
A record 10 Pillars for Excellence 20 Certificates for Merit were awarded last year. "Award of Excellence" recipients will move forward to a national competition between all 19 chapters of NATAS. There is no additional cost for the national competition. Three national "Awards of Excellence" were given to high schools in our chapter last year.
The quality of the entries gets better each year, a testament to the excellent media programs taught in our chapter. Chapter Education Chair Keith Sanders was pleased to see a 75% increase in entries and a 14% increase in participating schools last year.  Here's the page for past recipients – check our website soon to see this year's outstanding work.