DEBUT FEATURE: Catching Up with Maggi Scura

Happy New Year, everybody!! I hope 2018 will be our best year yet. I want to take a moment, as editor of Off Camera, to thank all of you for your support of your monthly newsletter of the San Francisco/Northern California Chapter of The National Academy of Television Arts & Sciences.
We have a small army of dedicated folks on our Board of Governors who make this longtime tradition a reality each and every month, from writing articles and taking photographs to editing and proofreading every bit of content. It's always our goal to make Off Camera the best newsletter for our television industry and for our Chapter, which encompasses TV markets representing the Bay Area, Sacramento, Fresno, Salinas-Monterey, Chico-Redding, Eureka, Reno, Honolulu and Guam. Yes, we have a big territory to cover, as you can see. And, we can't do it without you.
We hope you'll continue to keep us informed about what's going on in your market region. Please feel free to drop me a line at kevin@emmysf.com with any news or story suggestions. I'll always be grateful to you for your contributions.
New Column
So, this month's column is not only our inaugural outing in the series, but it's also the first column for me at Off Camera. We have been trying to come up with a catchy name for this column, and at press time, nothing has been decided yet. So, we thought we'd have a little fun with this. If you have an idea for a name for this column, please let me know. I've reached out to many of my friends and colleagues on Facebook during the latter half of December to ask for help with a catchy column title, and I received so many great ideas. I cannot thank enough (ideas are still coming in, even as I write this). So, if you have an idea for a name for this currently-nameless new column, drop me a line. The author of the winning selection will receive a Starbucks or Peet's Coffee gift card from me as my way of saying thank you. So, thank you in advance! We'll slap a name on this column in time for the February issue of Off Camera. That's a promise!
Each month, this column will feature a main profile about someone, or something, that's related to our television industry. We will also include short, industry news items that we hope you will find interesting and informative.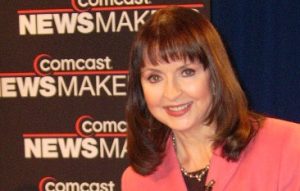 For our inaugural outing this month, we thought we'd feature someone who has the distinction of being one-half of an anchor partnership that, to this day, remains as the longest-tenured anchor team in Bay Area television history. Yes, their partnership lasted longer than Van Amburg and Jerry Jensen. Longer than Dave McElhatton and Wendy Tokuda. Longer than Dennis Richmond and Elaine Corral.
So, who are we talking about? Maggi Scura is her name. Remember Maggi? Of course, you do. Scura was a television tradition during her nearly 25 years at San Jose's KNTV, back in the day when it was either known simply as "Channel 11" or "The San Jose NewsChannel". For Scura and her years at KNTV, this was before the station became known, as it is known today, as NBC Bay Area. I used to watch Scura when I was growing up in Fremont; years later, I was thrilled to meet her and to have had the privilege to work with her when I was a freelance reporter for the station in the mid-1990s.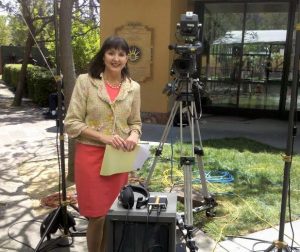 Scura and her Channel 11 co-anchor, Doug Moore, ruled the South Bay airwaves for nearly 20 years at a time when KNTV, as part of the San Jose-Salinas- Monterey market back then, was an ABC affiliate and not seen anywhere else in the Bay Area north of, say, Fremont or Palo Alto. Though their anchoring partnership ended nearly two decades ago, Scura and Moore still hold that dubious distinction of being the Bay Area's longest-tenured anchor team. And, longtime South Bay residents still remember the pair. They had that kind of appeal in San Jose and the Santa Clara Valley.
Scura arrived at KNTV in 1977, after a stint as a reporter at Sacramento's KTXL from 1975 to 1977. Born and raised on the East Coast, she and her family eventually relocated from Brooklyn, New York, to southern California. She attended the University of California, Irvine, then went on to Rutgers University, where she earned a degree in theater and English. "Those studies melded into the perfect background of what I started doing," Scura says.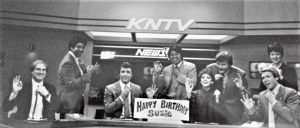 Though she was shy, she had a curiosity about everything. Her first broadcasting job was in radio, at a small station in Santa Maria, on the Central Coast. "I answered an ad," she said. "They had an opening for an on-air shift. Well, I'd never done anything like that before. The station said experience to them was not as important as the ability
to communicate. But, someone was crazy enough to hire me." The year was 1974.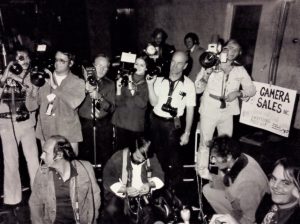 KXFM was a progressive rock and roll station, and the station put Scura on the overnight shift. "I eventually got bored playing music, so I asked the managers if I could do news and public affairs. At the time, I was also interning, in between radio news shifts, at KCOY, the CBS television station in Santa Maria."
From radio, Scura was hired in Sacramento, at KTXL, to be a reporter. She was a one-man band in those days. She did it all – the interviews, the camerawork, the editing of her news package. It was a tremendous experience for her.
In 1977, KNTV was launching a weekend newscast. News Director Lee Schell hired Scura. And the rest is history. "I didn't expect to be in San Jose much more than a year," Scura says. "I had no relationship at all to the area." But, fate would have other things in mind.
Scura first co-anchored with Phil Jennrich. "He was a radio newsman, on KNEW radio in San Jose. Then, I anchored the weekend news by myself for awhile. Then, the station brought in Jim Paymar to co-anchor with me." He would eventually go on to become one of the primary anchors at San Francisco's KRON in the early 1980s.
Scura anchored weekends and occasional weeknights for awhile. Then, from 1979 to 1982, she was paired with veteran Channel 11 anchor, Don Hayward, who had a smooth baritone of a voice. The duo would anchor and produce the station's 5 and 11 p.m. newscasts. "I also went out and did stories," Scura says. "I was so thrilled to have a photographer to go out with me on my assignments. No more one-man bands."
In 1982, Hayward retired, and Moore was brought in to replace him. And so began an 18-year partnership with Scura. Being a part of the South Bay television landscape, Scura's career growth paralleled that of the growth of San Jose and the Santa Clara Valley. "Silicon Valley growth was always the big story," Scura says. Her years at KNTV encompassed a number of significant events in the South Bay, including the growth of San Jose, the expansion of San Jose's airport, the redevelopment of downtown San Jose and more. At the time, Scura says, the region was also "the feminist capital of the world".
Scura says KNTV, as small of a station as it was in the 1970s and 80s, was much like "the little station that could". She was at work for the assassinations of San Francisco Mayor George Moscone and Supervisor Harvey Milk, in November 1978. "We covered it all," she says. "We covered the South Bay floods. And we covered the earthquakes.
The station eventually received an Emmy® Award for its news coverage. "When we won the Emmy, we had limited resources," Scura says. "But, on any given day, our people could prove themselves and hold their own against any other competitor. Our team worked beyond their limits."
The Scura-Moore team eventually ended when Moore left the station. That was in 2000. That came at a time when KNTV became an independent station for a brief time in its history as it prepared to become the Bay Area's NBC owned-and-operated station, in January 2002. "Doug and I were good friends, and we remain good friends," Scura says. "It's one of those happy surprises that you are just blessed to have."
Scura left the station at the end of 2001 to spend more time with her family. Television wouldn't be too far off the beaten path for Scura after she left KNTV. A "chat" with someone from Comcast eventually to Scura becoming one of the local hosts of its Newsmakers program. That was in 2005. And she's been hosting the South Bay version of the show ever since. The program features local newsmakers and non-profit organizations, designed to raise awareness of community issues. "Just when I thought I had no relationship at all to the South Bay in those early years, as it turned out, I stayed and fell in love with the area," Scura says. That was 40 years ago. This is Scura's home.
She has been married to Dr. Vincent Lepore, a South Bay plastic surgeon, for 28 years. Their son lives in southern California. When Scura and her husband aren't working or involved in community activities, they love taking day trips, hanging around their home and seeing friends.
The ever-modest Scura is always surprised that, after all these years, people still walk up to her in the grocery store to say hello. "This is my home. This is the community I love. People here have always made me feel so welcome."