The National Academy of Television Arts & Sciences (NATAS) announced the winners of the 49th Annual Daytime Emmy® Awards Creative Arts & Lifestyle categories. The ceremony was live-streamed at Watch.TheEmmys.TV and available on the various Emmy® apps for iOS, tvOS, Android, FireTV, and Roku (full list at apps.theemmys.tv)
View the recipient list here.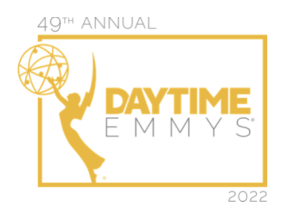 Presenters at the ceremony included Norm Abram, (This Old House), Michael & Bianca Alexander (Conscious Living), Judge Frank Caprio (Caught in Providence), Daym Drops (Fresh, Fried & Crispy), Samantha Brown (Samantha Brown's Places to Love), Sophia Roe (Counter Space), Jennifer Gareis (The Bold and the Beautiful), Raven Bowens (Days of our Lives / Beyond Salem), Tajh Bellow (General Hospital), Kate Linder (The Young and the Restless) and Tom Silva (This Old House) .
In addition to awarding Emmy Awards in more than 30 categories, the ceremony honored This Old House with a Lifetime Achievement award, marking only the third time a series has received the honor.
The Daytime Emmy Awards have recognized outstanding achievement in television programming and crafts since 1974, honoring work in a variety of categories, including daytime dramas, talk shows, instructional programming, hosting, and legal/courtroom programs. In 2021, the National Academy of Television Arts & Sciences (NATAS) and the Television Academy jointly announced plans to realign the Daytime and Primetime Emmy Awards to be organized by content genre, as opposed to program airtime. In addition, in recognition of the marked increase in content and entries for children's programming, 2022 will mark the first annual Children's & Family Emmy Awards, with relevant categories separating from the Daytime Emmys into their own competition and ceremony.