By Kevin Wing
Senior Correspondent, Off Camera
Chapter Governor, San Francisco
As a weekday morning news anchor at Sacramento's KTXL Fox 40, Simone De Alba arrives to work in the wee hours of the morning. And, while most of us are still sleeping at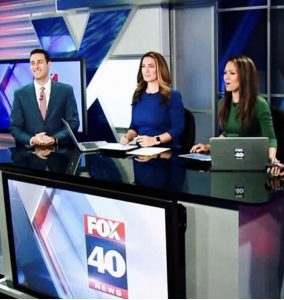 that hour (she has four alarm clocks to be sure she doesn't oversleep), she and her colleagues are preparing for their marathon, five-and-a-half hour newscast, which begins at 4:30 a.m.
By the time the show is over at 10 a.m., most of De Alba's co-workers might be ready to take a nap or catch some breakfast. And, De Alba, too, might also be sent out to cover a story.
But, somehow, her boundless energy keeps her going once she's off work for the rest of the day. Sure, after work, De Alba might take a 30-minute nap once she gets home, but that's about all she needs. Because, afterwards, she will more than likely head out for a run. But, this isn't any kind of run. De Alba's afternoon runs aren't a spin around the block nor do they go for just a mile or two.
How about 15 miles? That's like running a half marathon every day of the week.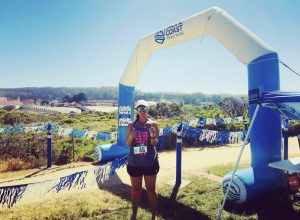 For De Alba, it's not really a big deal. She's an ultra marathon runner. Ultra marathon runners compete in races with 50-mile courses, even 100-mile courses. With that kind of serious distance and De Alba's energy even after being up since 1:30 a.m. to go to work, it makes running the Boston Marathon, for instance, seem like a piece of cake.
"I run five to 15 miles a day during weekdays after work," De Alba says.
Think that's a lot? Think again. De Alba's Saturdays are spent with her running as much as 30 miles. That's right, 30 miles. But, this type of running schedule is what it takes for her to be prepared for many of the ultra marathon races she competes in.
"Training demands with ultra running are just insane," De Alba admits. But, like being a television journalist, the running is a passion for her. Last month, she competed in the Born to Run ultra marathon in Los Olivos, near Santa Barbara, a 100-miles course spread out over the course of four days. In April, she competed in the American River 50 Mile Endurance Run.
De Alba explains she runs at least one ultra marathon every month. In 2018, she competed in as many as 14 ultra marathon events.
What's the motivation behind participating in these types of ultra marathons?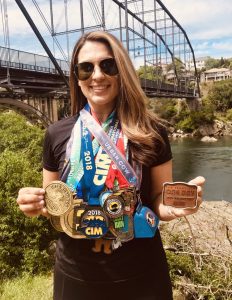 "Ultra running is one hell of an adventure," De Alba says. "Everything can go right, everything can go wrong."
De Alba adds that competing in ultra marathons has allowed her to get to know herself better.
"You just learn so much about you," she says. "You learn what kind fo a person you are when things get tough. You learn if you are kind to yourself and to other people. And, when you're in pain out there on the course, you learn how much pain you can push through, along with how bad you want to finish the race, or how you handle defeat."
De Alba adds that running events like these help her to understand what her body can take.
"It's getting your body to cooperate with your mind," she explains. "That's one of the biggest challenges with this kind of running. For example, during one race, I realized that my hydration pack had a hole in it. I was 25 miles into the race and I had no water. What was I going to do? Well, I learned to adapt. I learned not to panic. Several miles later along the course, I came up to the next water station."
De Alba's German shepherd, Casper, goes out with her on some training runs, but try as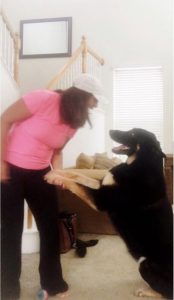 he'd like to please her, he usually doesn't last more than two miles because of bad hips, so it becomes more of a casual run for the both of them.
"When we're out there, we have fun," she says. "Casper is my guardian angel."
Born in San Francisco and raised in Denver, De Alba has been a prominent part of the Sacramento television news scene since late 2015, when KTXL hired her to become a weekend evening anchor and reporter. About a year later, an anchor slot opened up on the station's morning newscast, and De Alba tried out for it, eventually getting the job permanently.
De Alba's TV career has been on a fast track. Graduating with a political science degree from the University of Colorado during the last decade, she went on to earn a post-baccalaureate degree in political science and broadcast journalism at Metropolitan State University in Denver. By then already sending out audition tapes, De Alba was tapped before graduation to be an anchor and reporter at the CBS station in Great Falls, Montana.
"It was like the tiniest TV market ever," De Alba explains. It's way up there in the state and close to Canada."
She spent less than a year at the station, when the company owning her station promoted her to become statewide anchor, based in Billings, for all of the CBS stations it owned in Montana. De Alba covered the entire state. She spent a couple of years in Billings before landing in Sacramento three and a half years ago.
During her childhood years in Colorado, De Alba said at one point that she wanted to pursue a career in politics.
"I thought I wanted to be a politician," she recalls. "I was siiting in high school one day saying I wanted to be the president of the United States."
But then, De Alba realized how much she loved to write.
"The one constant has always been writing. Writing is a strength of mine," she saya. "Coupled with broadcasting, your writing can become so much more powerful and can impact people in a way that really touches lives."
Being a television journalist, De Alba says, is like having "a 24-hour job."
"You have to be constantly plugged in and checking your email, and all of that is a constant for me even when I'm not at work."
De Alba says her morning show at KTXL – the station is still looking for a male co-anchor to complement her and Mae Fesaisince Paul Robbinsretired in December – is "a monster".
"It's five and a half hours, every weekday morning," she says. "But, every day, I walk in with a big cup of coffee and, like running, I have to lace up my shoes, put my game face on and get ready to roll. I take that responsibility of being in the anchor chair passionately. I don't take it lightly. I take it as a public service to deliver the news and to get it right. It's that will to win that pushes us every day."