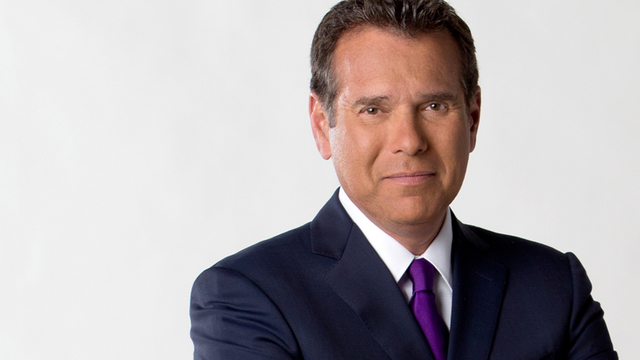 "Good morning everybody.  I am very excited to announce that Ken Wayne will be joining our team as co-anchor of our weekday evening news, effective immediately.  Alongside Pam [Moore], he will co-anchor our 6p, 8p and 10p news.
Ken's official first day is Monday, May 7."
– Steven Poitras, KRON4
KRON4 NAMES LEADING BAY AREA BROADCAST JOURNALIST KEN WAYNE WEEKNIGHT NEWS ANCHOR 
Experienced Anchor and Award-Winning Journalist Joins KRON4 News Team in San Francisco 
Brings Captivating Reporting Style and Strong Local Community Commitment to His New Role 
San Francisco, California (May 2, 2018) – KRON4, The Bay Area's Local News Station serving San Francisco-Oakland-San Jose, CA (DMA #8) owned by Nexstar Media Group, Inc., announced today that award-winning broadcast journalist Ken Wayne has been named co-anchor of the station's weeknight evening news. Starting mid-May, Mr. Wayne will co-anchor the evening news at the station's 6 p.m., 8 p.m. and 10 p.m. newscasts, Monday through Friday.
In his new role, Mr. Wayne will join the Bay Area's weeknight news team including distinguished KRON4 News veteran anchor and Emmy award-winning journalist, Pam Moore, chief meteorologist, Lawrence Karnow and sports director Gary Radnich.
"Our goal at KRON4 is to be the best and most reliable news resource in the market and unparalleled with our commitment to deliver relevant, unique, local news content. Further, we embrace being the station that people turn to when there is breaking news, as well as for weather, sports and major event coverage," said Chris McDonnell, KRON4 Vice President and General Manager. "For that reason, I am very excited to welcome award-winning journalist, Ken Wayne, to the KRON4 news team. Ken is recognized as an exceptional storyteller, who has an engaging and compassionate way of communicating, which uniquely connects with local audiences. With Ken's commitment to high-quality journalism and deep dedication to the local Bay Area community, we are confident in his ability to co-anchor KRON4 evening news and build upon the achievements of our station's leading team of award-winning professionals."
Born in Marin County, Ken Wayne has traveled the world as a Navy Journalist, taking him on assignments from the Aleutian Islands, to the coast of Libya. He joins KRON4 from FOX affiliate KTVU, where he served as anchor for the station's weekday and weekend newscasts and earned Peabody and Edward R. Murrow awards for his reporting. Mr. Wayne served several local communities in California throughout his career as a local news journalist including Fresno, Sacramento and Los Angeles, but his home is the Bay Area where he has been a fixture in local television since 1992.
"I am excited to join the team of professionals at KRON4 and continue to raise the standard that has set KRON4 news apart from its competitors. I am proud to join a news team with such a high standard for excellence. I welcome the opportunity to be part of KRON4's longstanding reputation and tradition as a news authority and the station that people turn to when they want to know exactly what's going on," said Ken Wayne.
"At KRON4, we remain focused on extending our heritage of local news leadership by delivering the most compelling and informative local reporting that touches the daily lives of our viewers," stated KRON 4 News Director, Aaron Pero. "Ken is an exceptional journalist who is closely aligned with the in-depth, investigative KRON4 brand. With a shared passion for local broadcast journalism, we expect Ken Wayne and Pam Moore to have a strong partnership and unmatched credibility as they deliver the most comprehensive local reporting to San Francisco Bay Area viewers on KRON4 every weekday evening."
About KRON4 
KRON4 now broadcasts from The Broadcast Center at 900 Front Street adjacent to the famed San Francisco waterfront. For more than 60 years KRON-TV, has set the standard for television news excellence in the San Francisco Bay Area. Producing 11 hours of local news per day, KRON4 is the local source of news for the Bay Area. In addition, KRON4 airs some of the Bay Area's biggest events, including New Year's Live, July 4th Live and Fleet Week featuring the Blue Angels.
About Nexstar Media Group, Inc. 
Nexstar Media Group is a leading diversified media company that leverages localism to bring new services and value to consumers and advertisers through its traditional media, digital and mobile media platforms. Nexstar owns, operates, programs or provides sales and other services to 170 television stations and related digital multicast signals reaching 100 markets or approximately 39% of all U.S. television households. Nexstar's portfolio includes primary affiliates of NBC, CBS, ABC, FOX, MyNetworkTV and The CW. Nexstar's community portal websites offer additional hyper-local content and verticals for consumers and advertisers, allowing audiences to choose where, when and how they access content while creating new revenue opportunities. For more information please visit www.nexstar.tv.
FOR IMMEDIATE RELEASE CONTACT: Steven Poitras (415) 561-8061 spoitras@kron4.com