2017 Gold & Silver Circle Induction Luncheon


By Kevin Wing
Editor, Off Camera
Seven television professionals, whose career achievements and accomplishments and a dedication to the television community have propelled them to a mark of distinction in the industry, received an even higher honor Oct. 14 when they were inducted as the Class of 2017 for the Gold & Silver Circle of the San Francisco/Northern California Chapter of The National Academy of Television Arts & Sciences.
This year's induction luncheon, an annual event since 1986, took place in San Francisco during a luncheon held at the Park Central Hotel. Approximately 125 people attended this year's induction, an event that, through the years, is thought of more as a reunion for those in attendance, seeing friends and colleagues and making new friends as well.
James Gabbert, whose television career spanned more than a half century, was inducted into the Gold Circle. Gabbert is perhaps best known as the one-time owner of San Francisco's KOFY-TV, an independent station which, after Gabbert purchased it and rebranded it, became well-known for its long-running Dance Party program (which he hosted for its entire run), a popular TV schedule of former network shows and a station identification break that featured dogs large and small sitting next to a big TV console with the "TV20" logo on it. Don Sanchez, Chapter regional vice president representing San Francisco and former longtime anchor and reporter at KGO-TV ABC7 in San Francisco, introduced Gabbert to the audience.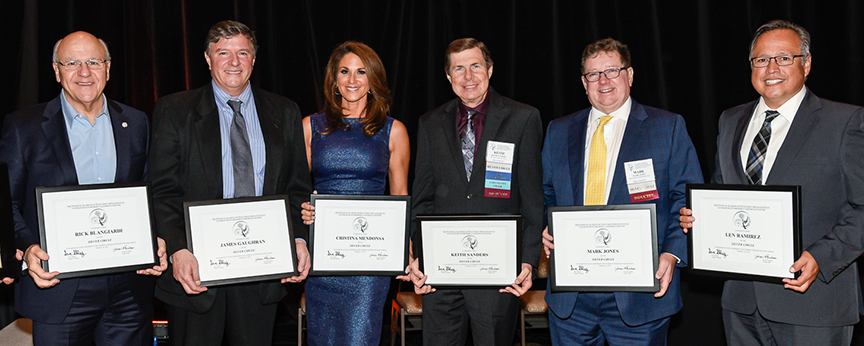 Inducted into the Silver Circle, for their more than 25 years of contributions to the television industry, were: Rick Blangiardi, president and general manager of KGMB/KHNL Hawaii News Now in Honolulu; James Gaughran, producer and documentarian at KNTV NBC Bay Area in San Jose; Cristina Mendonsa, former news anchor at KXTV News 10 in Sacramento; Keith Sanders, media producer at San Jose State University and immediate past president of the San Francisco/Northern California Chapter of The National Academy of Television Arts & Sciences; Mark Jones, video journalist at Multimedia Video Productions and former KRON reporter; and Len Ramirez, reporter at KPIX 5 in San Francisco.
Gaughran was introduced by Mia Zuckerkandal, a producer who worked with Gaughran at KRON and KPIX; Jones was introduced by Robin Smythe, retired vice president and general manager of News 13 in Florida; Mendonsa was presented by Dale Schornack, her former co-anchor at KXTV; Ramirez was presented by Rigo Chacon, former South Bay Bureau chief for KGO-TV in San Francisco; and Sanders was introduced by Jim Evers, former general manager of KICU-TV in San Jose.
For more about the 2017 Gold & Silver Circle Inductees, PHOTOS from the Induction Luncheon, and Applications for Candidates for the 2018 Gold & Silver Circle, visit the Circles page on the Chapter website.
As in past years, the Chapter presented several students with scholarships at the event: Valentin Almanza, a student at California State University, Sacramento, received the Peter Marino Memorial Production Scholarship, totaling $2,000; Daniel Guardado, San Francisco State University, the Sheldon "Shelly" Fay Memorial Videography Scholarship, $2,000; Paloma Martinez, Stanford University, the "Miss Nancy" Besst Memorial Graduate Scholarship, $2,000; Julia Vassey, University of California, Berkeley, the Jerry Jensen Memorial Graduate Overall Excellence Scholarship, $3,000; and Courtney Wagner, California State University, Sacramento, the Steve Davis Memorial Undergraduate Overall Excellence Scholarship, $3,000.
See more about the Scholarships Recipients, and opportunities for Students in our Chapter, on the Students page on our site.
See's Candies and Comcast sponsored the Oct. 14 event.
Back to "Off Camera" Index Page…