By Patty Zubov
Chapter Marketing Chairperson
CBS network reported that 167 million viewers watched all or part of Super Bowl 50 on Sunday, February 7, played at Levi's Stadium in Santa Clara. That makes it the most watched broadcast in TV history on an all-or-part basis.
Nielsen estimates that the game, in which the Denver Broncos beat the Carolina Panthers 24-10, had an average of 111.9 million TV viewers – ranking it the third most watched Super Bowl. They estimate an average of 115.5 million people were tuned in to watch the halftime show performed by Coldplay, Beyoncé and Bruno Mars. However, Nielsen's totals don't include out-of-home viewing, such as watching at bars and restaurants.. Internet streaming is not counted either – CBS made the game available on tablets, computers and streaming boxes like Apple TV.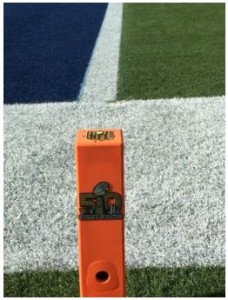 There were 70 cameras to capture the game, and Super Bowl 50 introduced a few creative camera twists and technological advances. One twist was "EyeVision 360" where CBS provided viewers a 360° perspective in high resolution. The system was comprised of 36 cameras strung around the upper deck of Levi's Stadium. It could freeze a moment – for example when the ball crosses the plain of the goal line – then revolve around the scene, and continue to show the play.
For the first time ever in a Super Bowl, CBS incorporated "Pylon Cameras" – eight custom-molded orange pylons on the goal lines and   sidelines on each side of the field, housing 16 high-resolution, high-definition cameras. The pylons also had microphones embedded in them to enhance the sound of the game.
CBS's Super Bowl Broadcast by the numbers:
1 –  CBS Sports Remote Production / Post Production Center, including 11 fully loaded Avid suites, 1 V.O. booth and 10 graphics stations.
1 – Camera placed on the Needle at California's Great America Amusement Park in Santa Clara that was focused on Levi's Stadium.
3 – Aerial camera systems.
4 – Sets used on Super Bowl Sunday – three at Levi's Stadium in Santa Clara and one in San Francisco.
4 – Super Bowls called by play-by-play announcer Jim Nantz.
8 – Super Bowls James Brown has hosted studio coverage.
8 – Super Bowls Phil Simms has served as an analyst – the second most ever behind John Madden (11).
9 – CBS Sports announcers making their Super Bowl broadcast debut (Tony Gonzalez, Bart Scott, Amy Trask, Mike Carey, Trent Green, Ian Eagle, Evan Washburn, Allie LaForce and Jay Feely).
12 – Production Trucks utilized for Super Bowl game and pre-game broadcasts.
16 – Camera angles provided by the eight "Pylon Cameras," for the first time in a Super Bowl.
18 – Number of CBS Sports on-air announcers part of Super Bowl Sunday pre-game and game coverage.
19 – Super Bowls televised by CBS, the most by any network.
70 – Game Cameras.
100+ – Overall cameras used for game and pre-game broadcast.
256 – Microphones used for the Super Bowl broadcast.
360 – Number of degrees CBS Sports' "EyeVision 360" replay system showed viewers on key plays during Super Bowl 50.
550 – CBS Sports personnel in the Bay Area covering the game, pregame and CBS Sports Network shows.
65,000 – Square footage for CBS Super Bowl compound.
1.1 million – Communication points in the compound's intercom system.