COLLEGIATE SCHOLARSHIPS APPLICATION DEADLINE


THURSDAY, MAY 31, 2018
Accepting Applications for two
$3,000 COLLEGIATE SCHOLARSHIPS
in addition to five
$2,000 TELEVISION SCHOLARSHIPS in
PRODUCTION, REPORTING, VIDEOGRAPHY, and WRITING
DOWNLOAD THE SCHOLARSHIP APPLICATION HERE
Please scan all documents into one PDF file and attach on your Student Express entry form
The San Francisco/Northern California Chapter of The National Academy of Television Arts and Sciences (NATAS) will award four undergraduate student scholarships in television reporting, videography, production and writing. Graduate students are eligible to apply for the graduate student scholarship for work in production, reporting, videography and writing.
The top Graduate and Undergraduate entry each will receive a special honor. Thanks to the gracious annual donation from George Lang (The Big Picture), in memory of his co-workers Jerry Jensen and Steve Davis, we will be awarding outstanding graduate and undergraduate student scholarships. All entrants will be considered for one these two special awards.
The Chapter awards these scholarships to encourage students who demonstrate leadership and talent in advancing the artistic, cultural, educational, and technical qualities of television. Scholarship checks will be presented at the annual Gold & Silver Circle Induction Luncheon. Student recipients will be notified prior to the luncheon.

JERRY JENSEN MEMORIAL SCHOLARSHIP
to the outstanding graduate student ($3,000)
Sponsor: George Lang www.thebigpicture.tv
Jerry Jensen anchored News Scene 7 on KGO with Van Amburg for more than ten years until his death on March 26,1984. Jerry died of pancreatic cancer at the age of 49. Jensen joined KGO-TV in 1969 as the weekend anchor. Prior to channel 7, he anchored at KBHK and KRON. Jerry was awarded the NATAS Governors' Citation in 1968.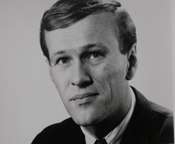 STEVE DAVIS MEMORIAL SCHOLARSHIP
to the outstanding undergraduate student ($3,000)
Sponsor: George Lang www.thebigpicture.tv
Steve Davis was a anchor/reporter for KGO-TV news for more than 20 years in the '70 and '80s. He covered major events from Patty Hearst to Jim Jones and anchored the 5 p.m. News. Davis was let go in 1989 but won an age discrimination suit against ABC in 1992. Davis died of cancer on March 18, 2005.

PETER J. MARINO, JR. MEMORIAL PRODUCTION SCHOLARSHIP
$2,000 for undergraduate students
Peter Marino was a stalwart member of the Chapter and co-founder of the Scholarship Program. He was well known for his public relation exploits, and as a music and video producer. Marino was a principle in a Bay Area recording studio and represented several recording companies. This scholarship covers a variety of production job disciplines.

RIGO CHACON REPORTING SCHOLARSHIP
$2,000 for undergraduate students
Sponsor: Rigo Chacon www.AbrazosandBooks.org
Multiple Emmy® award-winning television reporter Rigo Chacon and his wife, Lucy, offer a scholarship to an outstanding student who aspires in the field of television reporting. Now retired, Chacon worked at KGO-ABC7 for 29 years as a general assignment reporter and opened the first Santa Clara County bureau of a San Francisco-based TV station. Among his many honors, Chacon is a member of the Television Academy's prestigious Silver Circle.

SHELDON "SHELLY" FAY MEMORIAL VIDEOGRAPHY SCHOLARSHIP
$2,000 for undergraduate students
The family and friends of Shelly Fay started a scholarship to an outstanding videographer. Shelly was a multitalented television professional who worked in the San Francisco Bay Area as a producer, photographer, director and editor for more than 25 years, mostly at KPIX-CBS5.

 KENNETH SLOAT LANGLEY MEMORIAL SCRIPTWRITING SCHOLARSHIP
$2,000 for undergraduate students
Kenneth Sloat Langley was a founding member of the San Francisco/ Northern California Chapter, serving as our first Vice President and National Trustee, from 1961-63, and later as Program Chair in 1986. Professionally, Ken was Program Assistant at CBSTV from 1952-55, a producer, writer, director for KCBS Radio during the years 1957-60, and Director of TV and Radio for the Tuberculosis Association of California until his death.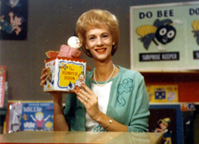 "MISS NANCY" BESST GRADUATE MEMORIAL SCHOLARSHIP
$2,000 "Miss Nancy" Besst, one of the founding members of the NATAS Northern California Chapter, started her career in Baltimore, MD as a staff teacher for Romper Room. Moving to San Francisco she became "Miss Nancy" on Romper Room from 1958-1969. She hosted many programs on KQED, KGO, KRON and KBHK. Nancy is a member of the SilverCircle, 1988, and has received the Governors' Service Medallion, 1994; Governors' Citation, 1996, and the Governors' Award, 1998.
ELIGIBILITY REQUIREMENTS
Scholarship applicants:
• must be actively engaged in a collegiate-level curriculum in one or more areas of the television industry and be attending a college in Northern California (Visalia to the Oregon border), Hawaii, or Reno, Nevada;
• have completed at least one undergraduate academic year of television studies, or be enrolled in a television graduate program;
• have at least one remaining year of undergraduate study for the undergraduate scholarships or one remaining year of graduate study for the graduate scholarship. Entrants may receive only one scholarship per year. Scholarship recipients are not eligible for a second scholarship in the year following their award.
APPLICATION PROCEDURES
The Chapter Scholarship Committee sends application brochures to all eligible universities and colleges within the Chapter area.
Link to become a registered user
Log in and complete entry form
Upload video – click "upload video" top of log-in page
Submit application and support documents (Word or PDF) to scholarship@emmysf.tv by the deadline date. The Committee then screens the applications, reviews the video and essays to select the recipients. The successful applicants will receive their scholarships at the annual NATAS Gold and Silver Circle Induction Ceremony.
APPLICATION REQUIREMENTS
Please specify which scholarship competition you are entering. Undergraduate students may apply for more than one scholarship, but you must submit a separate application form. The video entry must be specific to the category for which you are applying. Graduate students may apply only for the graduate scholarship.
Each application must include:
1) a completed scholarship application form;
2) current headshot (jpg)
2) a copy of your college transcript indicating your GPA and class standing (PDF);
3) a one-page essay summarizing your television academic and work experience, related activities and personal goals (Word or PDF);
4) a letter of recommendation from your dean or professor at your school explaining why you are a good candidate for an award plus the names of two faculty members we can contact for more information about your work. (Word or PDF)
VIDEO REQUIREMENTS
Undergraduate:
Production – Submit a composite of at least three examples of your work in one or more of the following areas: producing, directing, editing, lighting, graphics, or set design. (20 minutes maximum)
Reporting – Submit a composite of at least three stories showing your skills as a writer/reporter.  10 minutes maximum)
Videography – Submit a composite of at least threedifferent pieces that you have shot.  10 minutes maximum)
Writing – Submit up to three video samples of your work accompanied by scripts. (20 minutes maximum)
Graduate:
Submit a composite of at least three examples of your work in one or more of the following areas: production, reporting, videography, writing. (20 minutes maximum)
The applicant authorizes release of any information pertinent to this scholarship competition, including transcripts; and hereby grants NATAS permission to use portions of the winning entries for educational / promotional purposes.
If you have any questions, please contact: NATAS Office
scholarship@emmysf.tv  (650) 341-7786
Application:
LINK TO SCHOLARSHIP APPLICATION
Please scan all documents into one PDF file and attach on your Student Express entry form
E-mail to scholarship@emmysf.tv
1 – Scholarship Application from
2 – Current headshot (jpg)
3- Transcript
4 – Essay
5 – Letters of Recommendation
6 – A short statement of your professional aspirations;
7 – For the Ken Langley Scholarship, submissions must include scripts;
NOTE: The San Francisco/Northern California Chapter Scholarships are for college students only. High school students may also apply for the NATAS Chapter High School Student Awards of Excellence. Contact the NATAS office for more information at 650-341-7786.
Scholarships Donations:
TV ACADEMY FUND, INC.
4317 Camden Avenue
San Mateo, CA  94403-5007
The TV Academy Fund is a 501(c )(3) nonprofit charitable organization.
#94-3172275