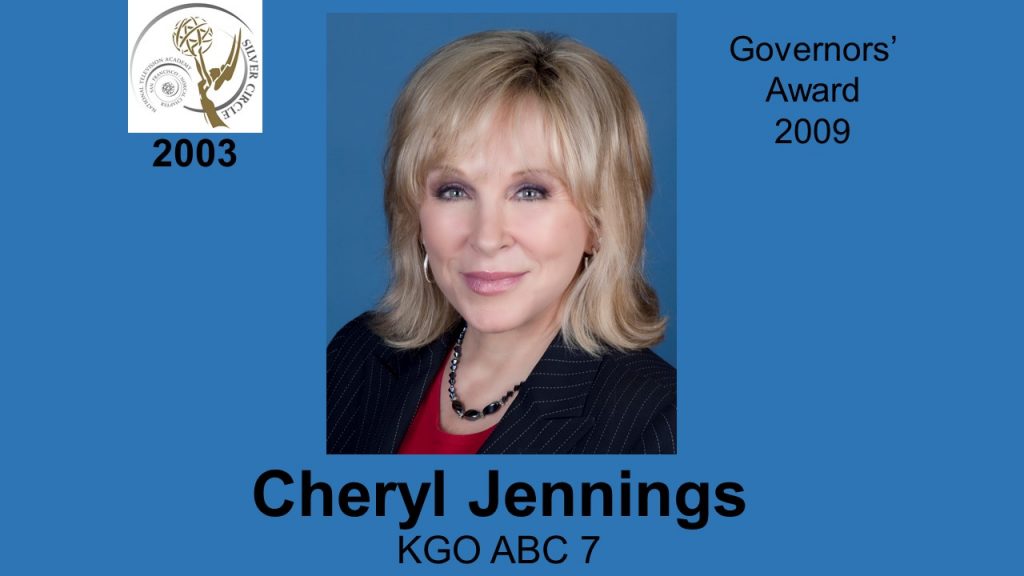 Cheryl Jennings joined ABC7 in 1979 as a general assignment reporter and became the
weekend news anchor in 1986. In 1988, she was promoted to weekday anchor.
Cheryl is a pioneer in reporting on children's issues, women's rights and
domestic violence and has been recognized locally and nationally for her active involvement. She was inducted into the Silver Circle in 2003. Also that year, Cheryl
received a congressional commendation from Congresswoman Lynn Woolsey for her services to the community. In addition, Cheryl received the Academy's highest honor "The Governors' Award" in 2009. Cheryl has also been honored for her news
reporting during the 1989 Loma Prieta earthquake. She was the first
ABC7 reporter on the air with live, late-breaking news reports, as the
aftershocks continued to rock the station. Cheryl began her broadcasting
career in 1974 at a San Francisco radio station. She worked as a
reporter, anchor and a news director before moving to television. In
1980, her documentary on sexual harassment of women in the work
force received an award of merit from the National Commission on the
status of women. Jennings attended both San Francisco State University
and City College, where she majored in broadcast communication and
journalism.