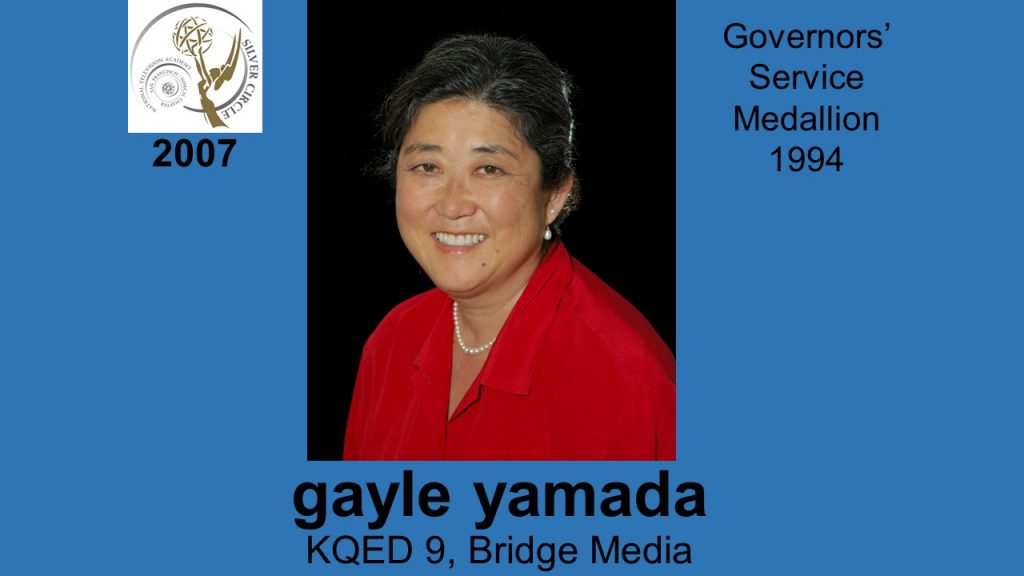 During nearly three decades in commercial, public, and cable broadcasting,
gayle yamada has been an award-winning executive producer,
producer, director, writer, assignment editor, reporter, news director,
anchor, editor, and videographer. Her body of work includes news,
documentaries such as "We the People" with Peter Jennings, cultural
performances such as "Earthquake Relief," and national cooking shows
such as "Yan Can Cook." She has taught at several universities, including
Stanford and California State University, Sacramento; co-authored
two books, one on women in broadcast news; and was a newspaper
columnist. With business partner Dianne Fukami, gayle founded Bridge
Media, Inc., a production and consultation firm, and Media Bridges,
Inc., an educational non-profit organization. Among her many awards are
the Asian American Journalists Association Award in both television and
radio, an Edward R. Murrow regional award, Best Historical Documentary
from the New York Film Festival, a Special Achievement award
from the Pacific Mountain Network, and the NATAS Governors' Service
Medallion . She served on the NATAS Board of Governors and
was a national trustee. She loves to travel the world for work and play.
Her B.A. is from the College of William and Mary, and her M.A. in
Communications is from the University of Florida.