By Richard Hart
Journalist, Professor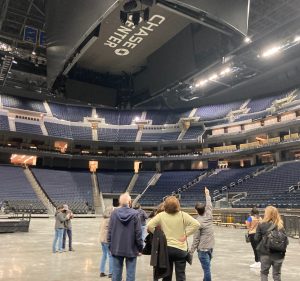 The visit to Chase Center in San Francisco on December 17 was so much more than a tour of the sports venue. Chapter Activities & Programs Chair Steve Shlisky, and Chapter Membership Chair Patty Zubov, organized a rare opportunity for NATAS members to go behind the scenes of this high volume, high-stakes video production facility. "We had been planning a tour of Chase Center once it opened for the 2019-20 NBA season," said Patty. "Of course, it had to be put on hold…"
Hosting more than a dozen of us, opening doors from luxury suites to editing suites, was Senior Director of Production for the Golden State Warriors and former NATAS Board member Blake Wilberding. His team turns out Emmy-worthy video with high production value that suggests weeklong shoots with 6 cameras and a lighting truck. The reality, however, proved to be inspiring to those of us whose typical day is run-and-gun. "We are so grateful to Blake and Chase Center for this rare stroll-behind-the-scenes opportunity," said Steve.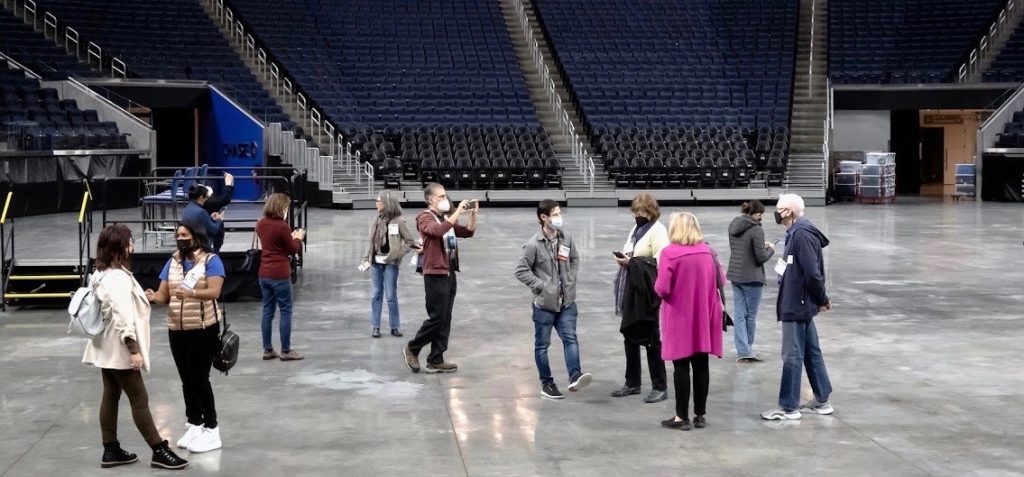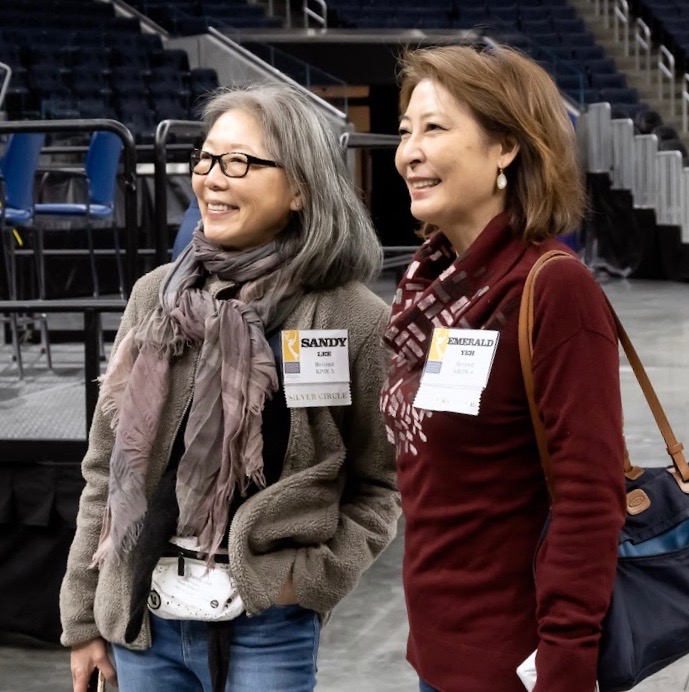 First on the tour was the arena. On this morning, the floor was an expanse of concrete, ready to seat the audience for a concert or other show. This base could support a musical on ice, perhaps, but not hockey action. It's just not wide enough for the NHL.
Boards are laid out for NBA games, of course, when they are surrounded by 18,000 seats. That number is reduced to around 12,000 after the rows on the north end are collapsed into the wall to make room for a huge stage. That's where our group posed for this team photo.
The center of attention is the technical marvel in the ceiling. This scoreboard is a ginormous box of LEDs. Screen dimensions are 4K. It played an important role in an impressive video produced by Blake's team. More on that later.
Next, Blake pulled back the curtain on the private, mostly corporate, suites — affectionately called bunker suites. One wall of every bunker is a video screen, a vast array of LED panels.
Then it was on to the edit suites. Actually, there is no edit suite. The production team works in a field of a hundred computers, elbow-to-elbow, close enough to entangle earrings. (This made everyone feel better about our own edit rooms.)
The Warriors production team comprises 15 people, including producers, directors, shooters and editors. Editing and effects are done on Macs running the Adobe CC suite. (Production software had been Avid at the old Oracle arena.)
Next was, for many of us, the most interesting event of the day – the Q&A – in a large conference room with an 18-foot screen. It began with a breakdown of The Black Lives Matter video that won Blake's crew an Emmy nomination. (In total the team won 7 statuettes, while Blake won 6!)  
Watch video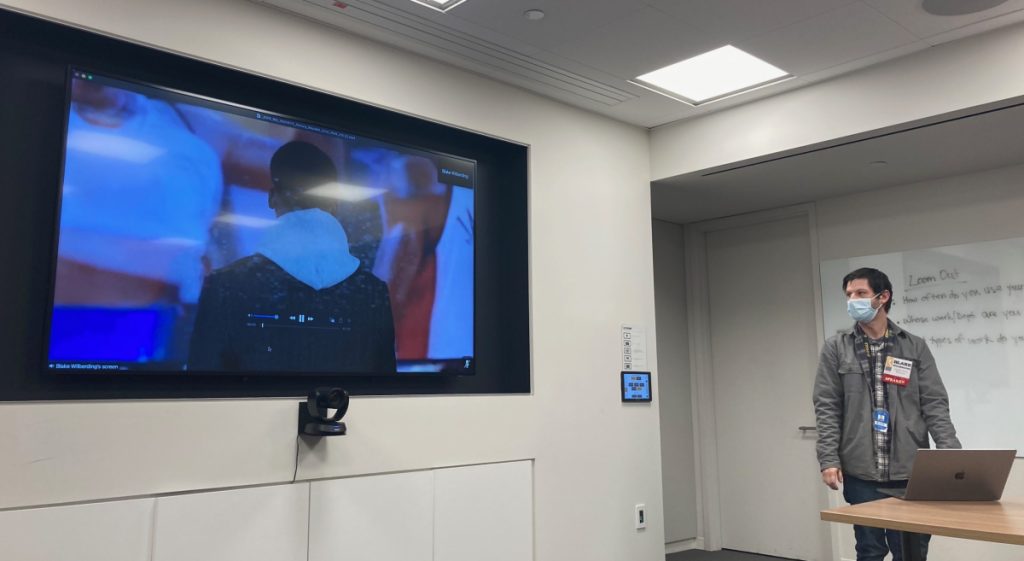 Stepping through the short feature, scene by scene, Blake revealed that it was shot in 6 hours, with a single professional actor, using available light. Yes, they run-and-gun much of the time, content with available lighting.
Well, at least they carefully storyboard every production, right? "We don't have time for storyboarding," said Blake, "although we do work from scripts." In this organization, everybody is welcome to share ideas, not just on location, but in preproduction.
Now, about that scoreboard in the arena. In the money shots throughout the BLM PSA, an actor appears to be keyed in, with a greenscreen projection behind him. Only there is no key. And no greenscreen. Behind him is that huge scoreboard, lowered to the floor, providing a moving background. It takes 30 minutes to raise or lower!
For this shoot, the crew loaded up the scoreboard with a carefully edited 1-minute video loop. To get their actor to perform in front of a particular clip, they simply waited until that clip came around again! Just one example of how resourceful and inventive this team is.
As many of us know, the greenscreen is so yesterday. Major productions, from HBO to Netflix, are deprecating chromakey, in favor of LED walls, 150 feet wide and 20 feet tall, wrapped around the stage. Smaller budgets are using laser range-finders, like the ones in iPhone, to pop a performer out of the background. The Chase Center scoreboard is a roll-your-own version that works amazingly well.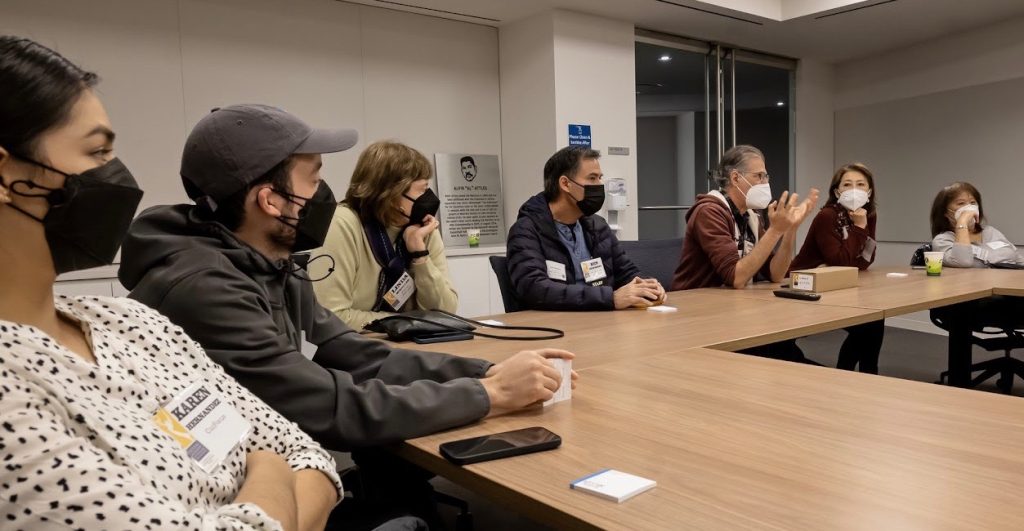 Just as interesting as Blake's talk were the questions that our NATAS members chose to ask. People in the room wanted to know every last detail. And Blake graciously took the time to address each of them.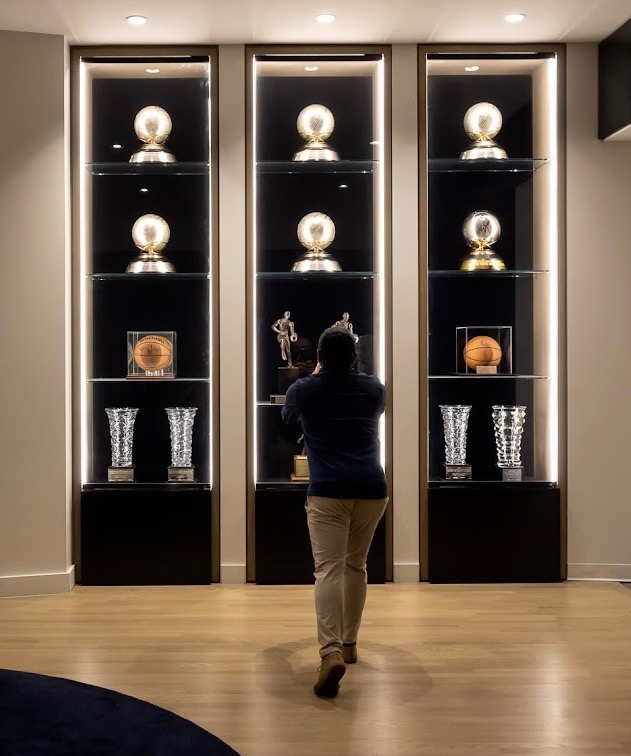 "The go-to camera here is a Red Gemini," Blake told us. "Music is licensed through APM. We have access to every NBA film or video ever, and the league has access to ours."
One more thing. It turns out that Steph Curry really is a nice guy. Cooperative, funny, and easy to work with.
Got your own questions? Ya shoulda been there!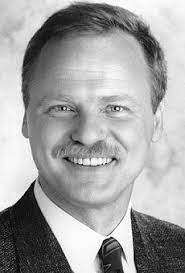 Richard Hart
Broadcast journalist specializing in emerging technology. University adjunct professor in multiplatform production.
---
Photos by Susan Bradley [unless noted]
Susan A. Bradley Photography
---
COMMENTS:
"Thank you for giving us a wonderful behind the scenes tour of Chase Center. We were fortunate to be among the small group who got the opportunity. We loved it."  Sandy Lee
"Absolutely agree.  Thank you." Linda Schaller
"Many, many thanks for the behind the scenes tour at Chase. Very fun." Rita Williams
"That was very special.  Thank you for the years of effort and patience to make this happen.  Congratulations to Blake and his team for the well-deserved Emmys.  It was fun to hear the stories behind the making of those videos." Emerald Yeh
"Loved it too!! Thank you all for such a wonderful visit!
And congratulations to Blake for the Emmys!  It is a wonderful feeling to be recognized for your outstanding work!" Linda Yee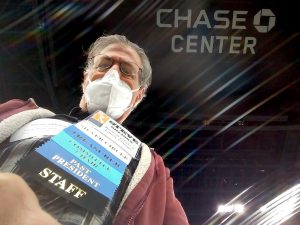 "I had a blast." Susan Bradley
"We hope to have additional unique events in 2023 for NATAS NorCal members." Steve Shlisky
Suggestions: sshlisky@emmysf.tv
—
RENEW MEMBERSHIP FOR 2023 HERE
—
PAST RELATED STORIES:
DECEMBER BOARD MEETING HELD AT GOLDEN STATE WARRIORS HQ (JAN 2019)
WARRIORS STUDIO PRODUCTION INSIGHT FROM NATAS BOARD MEMBER (JAN 2019)