By Joyce Mitchell
Chapter Governor, Sacramento
NATAS welcomes contributions to the REGIONAL ROUNDUP from all Chapter markets.
To be included, please contact Joyce Mitchell at joycem2@surewest.net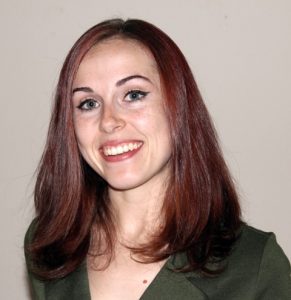 Eureka – Two-time NATAS Scholarship recipient Courtney Wagner made front-page news following the presentation of her documentary, Unsolved Hate, at the D Street Neighborhood Center in Arcata. The 25-minute program is about the murder of David Josiah Lawson, a college student attending Humboldt State University. "It has been a difficult, inspiring, and sometimes terrifying journey to complete this documentary," said Wagner. "Almost a year after the murder and still no new suspects, no updates. This piece may be done but the story continues until there is #JusticeforJosiah."
The documentary delves into alleged perceptions of racism surrounding the community and murder. A $55,000 reward is being offered for information that may lead to an arrest. Several other viewings of the documentary are scheduled in the Eureka area. To see Unsolved Hate, view this link:  https://youtu.be/fzAJn_UeBh4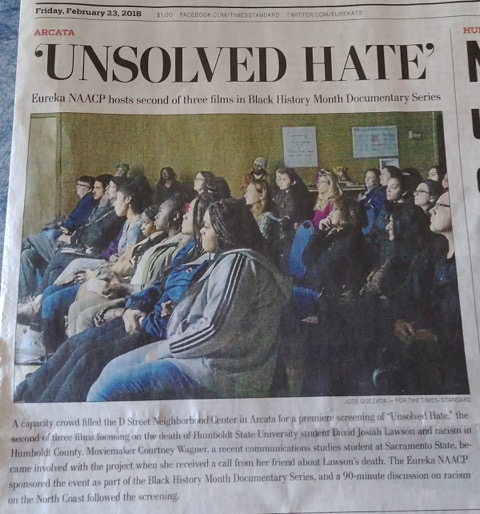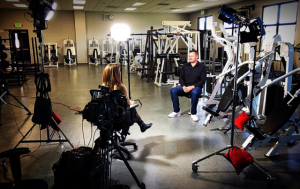 San Francisco KGO – Former Sacramento ABC 10 Anchor and 2017 Silver Circle inductee Cristina Mendonsa recently broke an investigative story as an independent broadcast journalist on ABC O&O KGO-TV on their 11 p.m. newscast. The piece was a Veterans Administration healthcare investigation.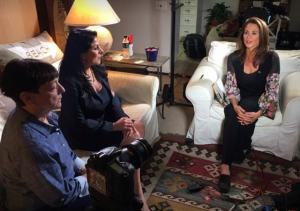 Meanwhile, Mendonsa is currently working on a story about the NFL and a player who came out as gay.  "I don't know where the NFL story will go yet," said Mendonsa. "I'm trying to sell it to ESPN, Comcast Sports or FOX sports." Mendonsa said that she's staying extremely busy since leaving the anchor chair. She's filling in on KFBK News Talk Radio seen here with Sacramento financial guru Kelly Brothers and well-known TV/radio personality Kitty O'Neal. Mendonsa, by the way, was filling in for O'Neal while she was picking up her credentials to cover the Academy Awards in Los Angeles.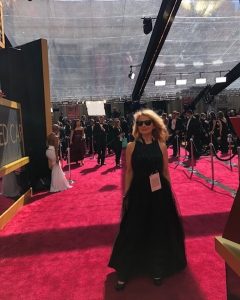 Sacramento KFBK – Kitty O'Neal rocked it on the red carpet covering the 90th annual Academy Awards in Los Angeles.  The TV/radio personality has covered the awards ceremony from both the red carpet and backstage 26 times. And O'Neal is expected to "rock it" everywhere she goes since she also sings in the rock band Skyler's Pool with her husband, Sacramento chef and restaurant owner Kurt Spataro. The band has been together a little more than two years and has released an EP. 
Fresno KFSN – A strange powder enclosed in a letter delivered to the newsroom prompted a station evacuation in Fresno at ABC30 on Feb. 20. "A letter was opened in the newsroom that contained a three-page letter from the Chowchilla Women's Prison," said photojournalist Richard Harmelink. "After it was opened, it released a strange odor." Newsroom employees called 911 and the entire station was evacuated for about an hour. Fire engines and a hazmat truck were dispatched to the station. Firefighters isolated the envelope and it has been turned over to the Fresno Police Department for testing. Two employees who came in direct contact with the letter were evaluated at the scene, are back to work and are doing fine.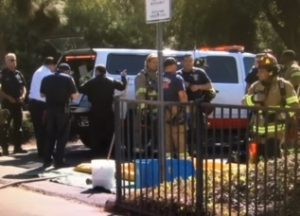 Honolulu/KHON-TV – Two years ago, 68-year-old veteran news photographer Norris Tanigawa was diagnosed with cancer. Starting as a film processor back in 1971, he was promoted to photographer, chief photographer, and news operations manager. "Norris was part of the team that turned last place KHON into the number-one rated television station in Hawaii," said KHON producer/reporter Pamela Young. Tanigawa retired in 2000 and up until recently has continued to join former KHON employees at regular reunions. On March 1, Tanigawa lost his battle with cancer.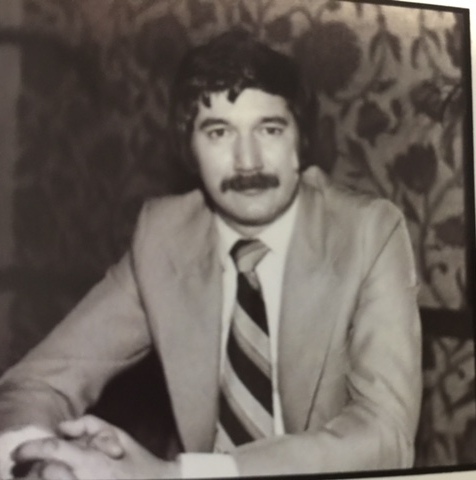 Reno/KTVN – After being ranked 112th in Nielsen's rating book, Reno is now ranked 105th in the 2017/2018 report. The assumption is that could eventually have an impact on TV sales departments. However, CBS affiliate KTVN General Manager Lawson Fox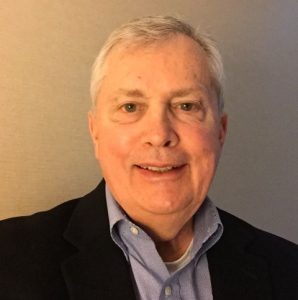 said that so far, things remain the same. "No, we have not noticed a change in sales based on the market break," Fox said. According to the 2017/2018 Nielsen report, there are 263,990 TV households in the Reno market. The year before, there were 260,630 households. Fox said that TV stations benefit from national advertising revenue once a market ranks in the top 100. "I've been here 27 years and Reno has never broken the 100-rank mark," said Fox. Still, at some point, Fox expects Reno to pass that crucial 100 market measure. The question is when. The northern Nevada region is growing along with markets in the southeast, according to Fox. "It all depends on if we grow faster than they do," he said.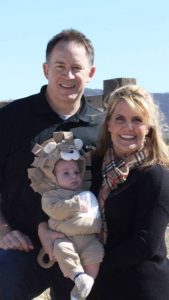 Reno/KOLO – And what a difference a kid makes. KOLO 8 news anchor Sarah Jones and her husband, KOLO 8 morning anchor Dave Lawrence, are jumping ship, getting out of news, and devoting their lives to raising their baby. The two met at work and got married in 2016. Then along came their son, Zachary, born Memorial Day weekend in 2017. "It's been a crazy schedule ever since," Lawrence said. He's been with the station four years but is leaving the industry to become a real estate agent. The couple signed off the air at KOLO within a few days of each other in March 2018.
NATAS welcomes contributions to the REGIONAL ROUNDUP from all Chapter markets.
To be included, please contact Joyce Mitchell at joycem2@surewest.net
Back to "Off Camera" INDEX page…