By Diane Ako
Chapter Governor, Hawaii
It's never too late to change your life. This is the lesson 40-year-old Sunshine Kuhia Smith is embracing with enthusiasm. Less than a year ago, Kuhia Smith had not seen the inside of a newsroom. Today, she's the weekend assignment editor for Hawaii's ABC affiliate, KITV.
"Working in TV news was always my dream job," she admits, though for her entire adult life, she's worked in youth services for the YMCA. "The news fascinates me. As a child, I used to keep scrapbooks of big news stories. I have also always made it a point to watch the evening news. I just like knowing what's happening in my community."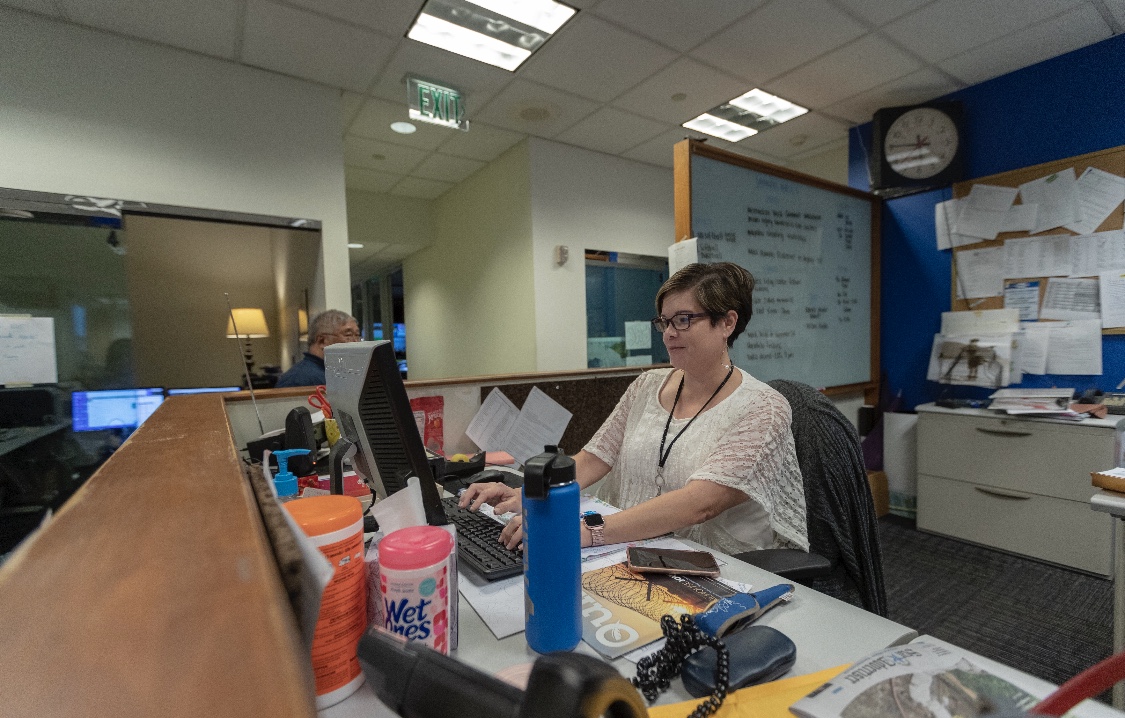 We're talking at the assignment desk, pausing frequently to listen to scanner chatter or answer phones. I've caught her at the end of her day, after she's given the night crews their marching orders and disseminated tomorrow's daybook. She looks very comfortable in this role, despite only coming on board in December.
This is a job she never envisioned she would have. Kuhia Smith is a youth program director at the YMCA's Kailua branch, where we met in 2010. Over the years, we developed a friendship, and last year, she expressed her interest in news to me. I invited her to come for a tour in June of 2018, which turned into an informal internship, which became this job. It happened organically.
A lifelong Hawaii resident, Kuhia Smith happened to know a couple other weekend staffers, so it was immediately a welcoming environment. She just kept coming every weekend to watch, learn, and help out.
"Sunshine was very helpful. She had a strong desire to learn how the news is put together, and she would offer to help in whatever way she could, even if it was answering the door or running an iPad into the studio for the anchors," remembers weekend producer Betsy Brown.
Her predecessor, Kanoe Perreira, recalls, "For someone who wasn't being paid to do this, she was extremely reliable. She showed up every weekend, on time, with a great attitude. She asked a lot of questions, took a lot of notes, and was a fast learner."
"Many of her qualities impressed me, but the one that stands out is the fact that a woman with a full-time job, two children, and no background in journalism was disciplined and determined enough to take this unusual opportunity and turn it into her next career," says weekend anchor Paul Drewes.
Kuhia Smith brings many of the managerial qualities she developed at the Windward Y to this position. "There is a bit of crossover. There, I oversee 60 staffers and 850 children a day. Then I come to the newsroom for a different kind of managed chaos," she laughs. She's familiar with a frenetic whirl of activity.
What's different, though, is the spontaneity of news. "In my other job, we have a schedule, and we stick to it. In news, you can make plans, and it can still change due to breaking stories. That's something to get used to," she says
Kuhia Smith is also acclimating to the 24-7 nature of this business. She says, "News is a lifestyle. I work weekends for KITV, but I still check my email every day, and start coordinating weekend coverage mid-week."
If history is any indicator, Kuhia Smith can handle change with grace. Four years ago, she underwent the most difficult challenge of her life: gastric bypass surgery, followed by a weight loss of 100 pounds. "I was well over 200 pounds at my heaviest, and I had a lot of health problems brought on by having diabetes. Even after the surgery, I felt sick for so long. If I can do that, I can do anything," she asserts.
Two years ago, she lost her grandmother, a woman who raised her. She was so close to her grandmother, she calls her "Mom." It was an emotionally devastating time, but it also taught her that life is change, and it's easier to flow with it than resist it.
That's why last year, she allowed her eldest son, Jalen, to move to Las Vegas after graduating from high school. "I never wanted him to move that far away from me, but I thought, I'm changing. Who am I to stop him from changing?"
Kuhia Smith hopes for more change in her future. "In my brief time in news, I've decided I love it, and I want to do this full time, either on the desk, in digital, or as a field producer," she states. "I am passionate about this."