By Toby Momtaz
Education Committee Chair
---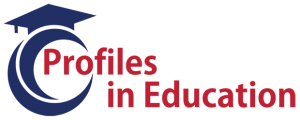 Profiles in Education is an effort to introduce media program educators in our region's high schools and colleges, as well as to recognize their achievement in offering career pathways in broadcast journalism, production and content creation to the future generation.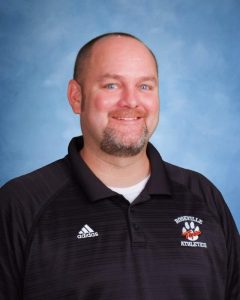 Meet Bobby Ritter who has been teaching Journalism and Media Production at Roseville High School for the last 20 years. Ritter majored in Journalism at California State University, Sacramento and later earned his master's degree in Journalism Education from the University of Missouri.
Roseville High School was established in 1912 to serve as the primary public high school for Roseville and the surrounding areas. Today, Roseville High School is one of nine high schools in the Roseville Joint Union High School District.
Roseville High School is located 15 miles north of Sacramento, serving students in grades 9 through 12. The student population is approximately 1850 students with a diverse population of Caucasian, American Indian or Alaskan, Asian, Filipino, African American, Pacific Islander, and Hispanic or Latino students.

Roseville High School's Media Program also known as the student run "Eye of the Tiger" program produces two broadcasts per week, prints a newspaper every month, and maintains a website plus social media platforms including Facebook, Twitter, and Instagram. Program students determine the content for all platforms, conduct and film interviews, write, operate the studio, and maintain the website and social media accounts.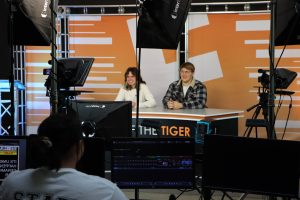 Thus far, the Eye of the Tiger website has earned two National Scholastic Press Association Pacemakers awards, the Eye of the Tiger broadcasts have earned two 5th place finishes in Best of Show at National Scholastic Press Association conventions, and the Eye of the Tiger Newspaper has been the winner of a Pacemakers Award, in addition to being named Best of Show at an National Scholastic Press Association convention.


Student works from the Roseville High School's Media Program have also earned an award for Merit and Honorable Mention from the National Academy of Television Arts and Sciences in the High School Student Production Awards.
When asked about his long-term goals for the program, Ritter says "We want to continue to train future journalists and media professionals, but we also want to help all students in our program develop a greater sense of media literacy".

---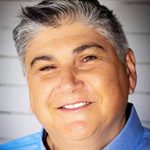 Toby Momtaz is a Producer at PBS KVIE in Sacramento, California
Monthly Profiles in Education from our region
NATAS welcomes contributions to the Profiles in Education from all chapter areas.
To be included, please contact Toby Momtaz at toby@emmysf.tv.