By Don Sanchez
Vice President, San Francisco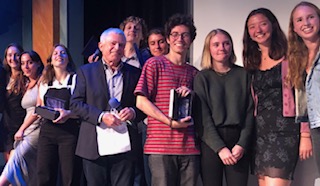 I have met the next generation of Emmy® Award recipients. And I'm impressed. They are students at Tamalpais High School in Mill Valley.
These juniors and seniors have made films that reflect their lives, their concerns, their hopes for the future.
The young men and women are in a two year program called AIM, the Academy of Integrated Humanities and New Media, which gives them the opportunity to explore their creativity and become early video communicators.
Technology leads to expression.
I presented Pillars and Citations for seven award winning films. Funny, serious, clever. From themes of automation, health, threat of ocean pollution, women's health, music.

Mark my words, you'll be hearing from these teen filmmakers again.  So glad we can help them, recognize them, and encourage their imagination.