Honorees in More Than 60 Categories to be Live-Streamed
In Two Ceremonies on September 28th & 29th  
Nominations for the 42nd Annual News and Documentary Emmy® Awards were announced July 27, 2021, by The National Academy of Television Arts & Sciences (NATAS).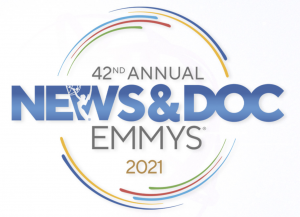 The awards will be presented in two individual ceremonies:
News Categories – Monday, September 28th, 2021 at 8 p.m. EDT
Documentary Categories – Tuesday, September 29th, 2021 at 8 p.m. EDT
Each ceremony will be streamed live on NATAS' dedicated viewing platform powered by Vimeo, available on the web at Watch.TheEmmys.TV and via The Emmys® apps for iOS, tvOS, Android, FireTV, and Roku (full list at apps.theemmys.tv).
"In the unprecedented year of 2020, where a global health crisis had challenged our safety and survival and a presidential election shook the very bedrock of our democracy, these news and documentary professionals delivered the crucial, clear and factual reporting that gave us the tools and knowledge necessary to make the informed decisions that affected our everyday lives and indeed, our futures," said Adam Sharp, President & CEO, NATAS.
The 42nd Annual News & Documentary Emmy® Awards honor programming content from more than 2200 submissions that originally premiered in calendar-year 2020, judged by a pool of over 800 peer professionals from across the television and streaming/digital media News & Documentary industry.
The complete list of nominees is also available on the National Television Academy's website: theemmys.tv.